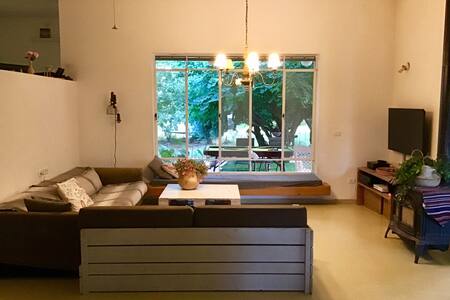 SUPERHOST
Entire villa · 15 guests · 12 beds · 2.5 baths
ליד הנחל וילה שדה נחמיה גליל עליון מזרח בניאס ירדן
אין ספק שזכיתם! 300 מטר קו אויר מהבניאס חמש דקות הליכה לאי הפרטי על גדות הנחל. טיילת מדהימה עם זולות ופינות קסומות וסודיות , גן עדן של טבע פראי וזרימת מים שופעת , בריכת שחיה בישוב בתשלום ובתיאום, מסלולי טיול רבים ומסעדות גליליות שנשמח להמליץ עליהן, אתם קרובים מרחק דקות של נסיעה מכל האטרקציות בצפון, פשוט חלום ! ( קייקים, צוק מנרה , כדור פורח גליליון, מרכז קנדה ועוד..) הבית באוירה כפרית, רחב ידיים , רגוע ונעים. חצר מוצלת בחורש ירוק, נדנדות , בריכת דגי נוי , פינות ישיבה , מנגל ושולחן סנוקר.
What guests are saying:
"נהננו מאוד בבית של גלעד וסמדר. הבית נעים, מרווח ומצויד היטב, הצליח להכיל אותנו (משפחה מורחבת של 15 איש) בנוחות. היה לנו במיוחד כייף בחצר הגדולה והנעימה, עם פינות ישיבה, נדנדות וטרמפולינה. המיקום מוצלח כבסיס לטיולים קרובים ורחוקים, והתקשורת עם המארחים הייתה נוחה - סמדר השיבה במהירות לכל שאלותינו, אף שהם היו בחו"ל בזמן שהותנו בבית."
You are most welcome to stay in our beautiful studio which is located just two minutes walk from the banias river, and a beautiful smal island. Only a few minutes walk is the promenade along the Jordan river. Our house is surrounded by nature and has a beautiful garden. We are always happy to help you plan your trip here and recommend about the best restaurants, nature reserves and other attractions in the area. You can also order an amazing picnic basket and have a picnic in nature .
What guests are saying:
"Everything about our stay was wonderful and exceeded our expectations - we can not recommend Ayelet's place highly enough. The apartment has everything you need, and is beautifully decorated and very quiet & peaceful. The location is a perfect base to explore the northern Galilee and Golan. Ayelet was a wonderful host. She was extremely kind and helpful in providing recommendations for local restaurants, and suggested a wonderful hike that we never would have found on our own. She also packed a homemade, beautiful picnic lunch for us, which was amazing!! We warmly recommend Ayelet's apartment and hope we go back ourselves one day."