Shenkeng Yunxiang Villa is located in the deep pit of Taipei's famous tourist attraction. It is a 5-minute drive to Old Street and admire the antique architecture and delicious deep pit stinky tofu. It is only a 15-minute drive to the Xinyi District, which leads the trend and fashion of Taipei, including Taipei World Trade Center and Taipei 101. It takes about 20 minutes You can enter the Nangang Exhibition Hall, Neihu and new shops and other industrial and commercial areas. About 15 minutes to Mucha Zoo, Cat Air, Pinglin Tea Museum and other attractions. Whether you want to experience a low-carbon mountain trip or a shopping trip, Wanxiang Villa's facilities are for short trip rentals for adventurers traveling alone and family / group activities / retirement with kids. Intimate, comfortable accommodation.
What guests are saying:
"The room and all the facilities are exactly the same as the picture. The house is only 15 minutes walk from the pit pit / 20-25 minutes from the old street. There is also a bus nearby. Therefore, you can choose to play in deep pit or training. In addition, the landlord's hospitality super good, know that late in the evening I would recommend waiting for me at the Xiangshan station I come in, I will go when the car will go to the nearby MRT station, but also to provide a healthy breakfast every day. Will come live again next time."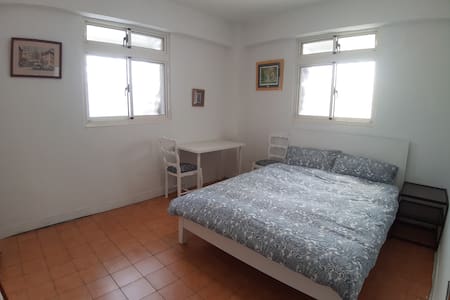 SUPERHOST
Entire apartment · 2 guests · 1 bed · 1 bath
Taipei/NCCU/Wenshan 小文的家:台北市文山區/政大,國家考場,台北101,萬芳醫院
@Welcome long-term monthly rent. @Use password key box for self check-in @Located in the center of Wenshan District, Taipei City. @Double bed room in a 5th floor 80 sq metre apartment, comfortable, clean and convenient. @Quick public transportation (Bus) links to NCCU (5 mins), NTU (20 mins) and NTNU (30 mins). @You can have living room, dining room and kitchen. @The whole flat belongs to you during your stay. Wenshan District, Taipei City is a ten-minute bus ride away from the National Examination Center, the Political University and the 101 Business District in the East District. It is suitable for short-term business travel examinations. It is very convenient to go to Maokong, Zoo, Bitan, Wulai, Shenkeng Old Street, Shifen Waterfall and Jingmei Night Market. It is also within walking distance of Zhengda Business District and Hebin Park, and has a good life function. About 25 pings, spacious double room, let you easily go to exams, business trips or travel.
What guests are saying:
"The location and surrounding life function are very good, the space in the house is clean, nearby Hebin Park and Zhengda commercial district, Jingmei night market ..., there are many foods and convenient transportation. Line can be used to contact the host, highly recommended to stay!"
The retro roof lodge in Xinyi District of Taipei City, the original owner is an artist who often paints here, hence the name studio. This property is conveniently located in the quiet lane, with easy access to Louisa, 7-11, the whole family, top, Starbucks, and Yongchun MRT station⋯ The bus routes on Xinyi Road can take you around Taipei, and walking is also a good choice for roaming. -Charming apartment,well-located with easy access. - Vintage style apartment with big rooftop .Comfortable,clean,tastefully decorated. -Atelier is on the fifth floor in an older Building with stairs
What guests are saying:
"I enjoyed my stay of a little over a month at Esther's rooftop apartment. It's a short walk to the blue metro line, and there's a UBike spot right next door. There's a small night market very close by with lots of options for lunch and dinner, and plenty of convenience stores and a supermarket as well. I particularly recommend a coffee shop nearby called 烘焙者咖啡(松德店), if you like siphon coffee. The Taipei 101 area is a 15-20 minute walk, and in the other direction there are some nice hiking areas. The apartment is well decorated, although the desk chair is a bit uncomfortable. The bed and bathroom are quite good, and the AC worked well enough. Overall, it's more geared towards shorter stays due to the size and lack of cooking facilities. It's on the 5th floor (depending on how you count it) with no elevator, which I don't mind at all, but might not be desirable for some people. There was no issue with checking in or checking out, and the instructions for finding the place were good."