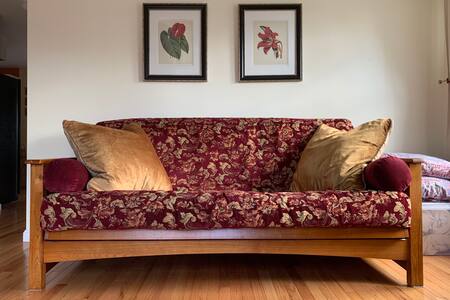 SUPERHOST
Entire apartment · 5 guests · 3 beds · 1.5 baths
North Street Nest, sunny downtown apartment
This is an entire apartment. You won't need to to meet with anyone to check in. Outdoor seating on the deck is for your use only. I follow an extensive Covid-19 cleaning routine. The apt. is aired out for 24 hours, detail cleaned, then all frequently touched surfaces are sanitized between every booking. Before booking, check out https://www.mass.gov/travel
What guests are saying:
"Many AirBnB guests find an inordinately comfortable stay in a particular city and don't consider other offerings for return visits. For us and Northampton, MA, it's Susan's place. The house is located in a lovely turn-of-the-century neighborhood. Although her house was built in 1900, renovations both inside and out make it feel "state-of-the art." For example, it was quite hot during our visit but the air conditioning and modern controls made it a blessed oasis from the heat. We stayed in the "Nest" and there is another AirBnB rental, the "Treetop" on the floor above. There are two bathrooms, one with tub/shower/laundry, which came in quite handy when another couple visited us there. Although there are twenty stairs to the "Nest" the stairs themselves are solid and include a sturdy metal handrail. She has a driveway and garage behind the house so we were able to park off the street. While we didn't use the kitchen very much, it has all the accouterments for a multi-week stay. At one point we thought we might need extra towels and chairs for added guests but, of course, these were already in the main bedroom closet. This bedroom had a ceiling fan and even a book light firmly attached to the headboard for late-night readers. There is an attractive sitting room at the end of the apartment which easily accommodated six of us. Next door is an historic cemetery which provided both a place for me to jog in the morning as well as interesting walks with my wife. Although we didn't walk downtown, it's an easy nine-minute stroll to Northampton's primary coffee shop. This is a delightful apartment in an elegant neighborhood. We hope it's free on our next visit to Northampton."
This is an entire apartment. You won't need to to meet with anyone to check in. Outdoor seating on the front porch is for your use only. I follow an extensive Covid-19 cleaning routine. The apt. is aired out for 24 hours, detail cleaned, then all frequently touched surfaces are sanitized between every booking. Before booking, check out https://www.mass.gov/travel.
What guests are saying:
"Susan tree top Airbnb was amazing!! Very stylish. I love the sunlight coming in. It was a great place. Her mini kitchen was great. She have a Nespresso machine, keurig machine, frother, mr.coffee, toaster oven, electric kettle and microwave. I think I name it all ( lol). She was up to date on everything. Very spacious/cozy area! She helped me with something. I asked her to put roses on the floor and the bed. It was my boyfriend and I anniversary. She helped me a lot which was generous of her. Her Airbnb is close to downtown. You can walk or drive. Even my boyfriend love this Airbnb. He is a hotel type of guy but he was impressed with this Airbnb. If we ever do visit Northampton,Mass, we are going to book this Airbnb again."
Comfortable, clean, quiet room with a private bathroom. Minutes away from our vibrant little city -- and yet with countryside at the doorstep. Lovely deck, yard, and nearby hiking and skiing trails. We love hosting and we take our hosting seriously to make our guests happy and comfortable. We work hard to make our home clean, have a professional cleaner, and disinfect surfaces on a regular basis.
What guests are saying:
"The location is ten minutes from downtown, and has that "out-in-the-country" feel. Rachael and David are thoughtful hosts, providing great towels, a comfy bed and coffee in the morning. The house is easy to get to via GPS. The bedroom and bath are around the corner from the dining room, and are quite private from the rest of the house. There is a small heater in case the room gets too cool (it did; it's winter after all!), but the lovely sheets and coverlet kept me warm and toasty. There is a refrigerator where I could store the food I brought, and they were very amenable to my quick use of their microwave. A great spot!"