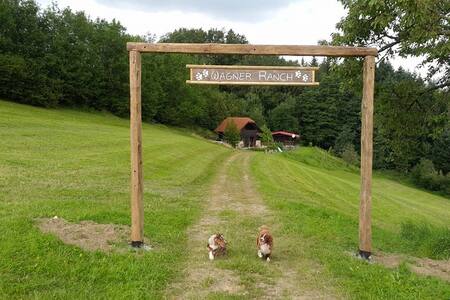 SUPERHOST
Entire cabin · 4 guests · 4 beds · 1.5 baths
Wagner's Ranch, Blockhütte in absoluter Alleinlage
Unser Ferienhäuschen ist ein kleines Paradies inmitten unberührter Natur und ohne Nachbarn. Das Grundstück befindet sich auf 750 Meter Seehöhe in Hanglage mit einem schönen Ausblick. Es handelt sich um ein rustikales Blockhaus mit einem Wohn- Schlafstudio, einer kleinen Küche, einem Badezimmer und einer Terasse. Das Bett ist ein rustikales, selbstgebautes Doppel- Stockbett und bietet Platz für 4 Personen. Achtung: Über den Winter über ist die Hütte leider nicht verfügbar!
What guests are saying:
"General: So I would like to thank you warmly for the kind people ... sharing / renting such a wonderful place. Personal feeling: For me personally it was the most relaxing and best vacation so far, just the right thing .. Location: The hut is not on the street or along the street but really between forest and meadow field, that means you are absolutely in the middle of the green ... far and wide no neighboring house can be seen (which I find perfect by the way) directly in front of the hut you can enjoy a wonderful view. Bambis even visited me one afternoon, I could watch them directly from the window. It is indescribably quiet, all you can hear is nature. A grocery store is 15 minutes away by car. Directions: IMPORTANT: note the exact description of the host! The path towards the hut is a kind of gravel path that is next to the concreted street and does not appear very visible, at least it was like this for me :-D Equipment of the hut: you have everything you need, toilet, kitchen (2 plates for cooking) freezer, an incredibly great shower .... IMPORTANT: Don't forget to bring towels, bed linen ... Host: absolutely friendly, available, helpful. Conclusion: if you really want to relax, want to enjoy rest, want to be one with nature, this is the place for you. I'll be back soon !! thank you All the best from Vienna ..."
Gemütlich und überschaubar, dies sind die Stärken der Unterkunft! Der bewußt reduzierte Haushalt, lädt ein mal ein gutes Buch (Bibliothek ist vorhanden) zu lesen oder sich mit den Lieben, bei einer guten Flasche Wein bei Kerzenschein zu entspannen. Ein Garten mit eigener Feuerstelle und angrenzenden Wald garantieren wunderschöne Naturerlebnisse, also auch bestens für Kinder und Abenteuersuchende geeignet. Im Umkreis von 15km finden sich tolle Ausflugsziele wie eine Therme, eine Ruine, uvm..
What guests are saying:
"When we arrived we could hardly believe our luck. We were greeted by a beautiful green and wild garden. Strawberries as far as the eye can see, twittering birds and the forest 10 meters from the house. The host Martin showed us around in a super friendly, open and relaxed way. At every corner you can see that the entire accommodation is designed and furnished with attention to detail. Seldom have we felt so comfortable, at once, and felt as free as in Martin's house and garden. With his warm nature he enriched our time very much! There are hardly enough words to describe how magical and beautiful it is with him. The best thing to do is to experience this yourself. Thanks Martin, we will definitely be back. PS: the fresh eggs from the organic farm shop should not be missed! PPS: Insider tip: the grilled cheese can do something too!"
Ferienwohnung mit gut bürgerlicher, ländlicher Ausstattung in unserem frisch renovierten Haus im Zentrum des Höhenluftkurortes Mönichkirchen. Geniales Klima im Sommer als auch im Winter. Sommerfrische mit Ausflügen, Wandungen, Mountainbiken, Rollerbahn, Tennisplatz und einem Kletterpark für Kinder und Erwachsene. Heilsam für die Seele und die Atmung. Gleich vis a vis befindet sich die Bäckerei Dorfstetter mit tollen Frühstücksangeboten und kleinem Lebensmittelgeschäft zur Nahversorgung.
What guests are saying:
"We would have a very pleasant stay with Eva (mother of Bettina). The communication was already very good and informative. Eva greeted us warmly and showed us everything. The apartment is clean and equipped with everything you need for a short stay. We were also allowed to use the room in the basement and the outdoor area, which was very pleasant to sit in the evening a little bit outside together. The house is located in the middle of a small town where (at least in the summer) is not busy, perfect to relax a few days away from the hustle and bustle and decelerate. Gladly again!"