Insta Hotple Café & Daegu Gourmet Tour, I recommend a hidden restaurant: D It is a new building, 3 minutes walk from Dongdaegu Station and Shinsegae Department Store. Pyeonghwa Market, Daegu Airport, Dongseong-ro, Kim Gwangseok Street 10 minutes by car, close to subway and bus station, the best location for Daegu travel. It's a building right in Dongdaegu. It is located on a big road and is safe. Conveniently located close to supermarkets and restaurants It is a comfortable hotel with a cafe-like interior. Supplies Hair Dryer, Iron, Ironing Board, Clothes rack, comb, hanger, indoor slipper, Toothbrush, Toothpaste, Body Sponge, Shampoo, Rinse, body wash, foam cleansing, cotton swab, cosmetic, Hand wash, Electric pot, Toaster, Microwave, Refrigerator, pot, bowl, plate, cooking oil, soy sauce, salt, Sugar, Kitchen detergents, scrubbers, rubber gloves, towels, Laundry Detergent, Softener, Wine Glass Hair curlers and board games
What guests are saying:
"There was no big disadvantage, but the price and location can be considered even if they exist!!!! I wanted to go to work and lie down immediately, but it was so good to be there if I went down in less than 3 minutes! There are two convenience stores right underneath and there is a Shinsegae Department Store, so the convenience facilities are so good. I asked for careful cleaning. I thought it was a dark curtain, but I guess it wasn't! There was more light in the morning than I thought! Um.. the bed was on the hard side, and when it moved a lot, the sound was a bit (?)!"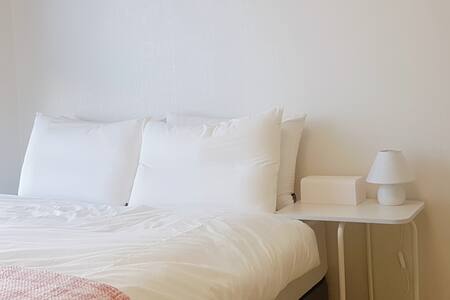 SUPERHOST
Entire apartment · 2 guests · 1 bed · 1 bath
convinient transportation & wonderful night view
Hi i'm Dori and welcome to my minimal house!
What guests are saying:
"First of all, the location is just right in front of Dongdaegu Station, so you can visit it and the surrounding facilities are very convenient and good! I was also impressed by the simple tableware, tissue paper, and wet tissues. There was a table, so it was easy to order food Above all, you don't have to worry about foam cleansing, oil remover, and towels that were really generous !! I've been to various accommodations in Daegu It's the best By the way, there were many unknown nail claws out of bedding."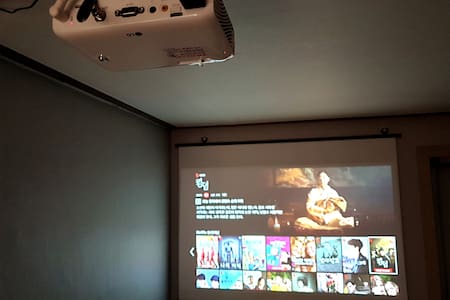 SUPERHOST
Entire condominium · 2 guests · 1 bed · 1 bath
Good accessibility / Cozy studio / Beam projector
※ If you have a cough or fever, please reconsider the reservation. Thanks for your understand. 1. Accessibility to Daegu's major areas! *The building locate just across from the main gate of KNU. *15 min by bus to Dongseongno. *20 min by bus to Airport. *20 min by bus to EXCO. *8 min by bus or and 15 minutes by walking to Dongdaegu Station. 2. Adjacent to a university, a good place to take a walk. 3. Tidy and furnished studio. 4. Convenience store, bus stop is 1 minute walk away.
What guests are saying:
"It was clean, compact and nice :) The interior is pretty, and the Netplex is comfortable to see~ Soundproofing is good! I will use it often~"