You're welcome to share our comfortable Craftsman style cottage with us. Conveniently located in a quiet, pretty little gem of a neighborhood, we're just 8 miles from the Portland International Airport, 3 miles from McMenniman's Edgefield and 2 miles from Blue Lake Regional Park. Depending where you walk in the neighborhood, you'll be able to enjoy a beautiful vista of Mt. Hood - when it's not hiding in the clouds. We love it here and hope you'll enjoy Casa di Fiori as much as we do.
What guests are saying:
"Craig and Glenda are amazing people! Their house was a home away from home. They were so welcoming and kind. Every encounter I had with each of them was absolutely pleasant and nice. The house was spotless, warm and welcoming. When I would speak with them I felt as though I was talking with my own parents. They would ask me every night would I did throughout the day on my adventures around Oregon; and they would ask me how everything was going and what I had planned for my day. I never wanted to leave. :) the area they live in is beautiful and quiet. They are so close to the airport and about a 20-30 minute drive to downtown. It was nice to have my own bathroom and bedroom. In the bedroom was a binder that had so many recommendations for food, places to go and things to see and it really helped me out since I had no definite plan. On my last night I got back to their house and they were watching a movie and invited me to watch it with them and that was a very nice gesture. It made me feel like a part of their family instead of a stranger in their home. :) you won't regret stay with Craig and Glenda. They are absolutely amazing! :D"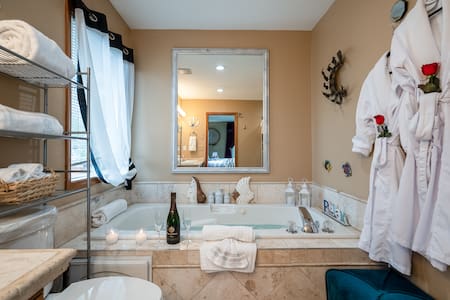 SUPERHOST
Entire guest suite · 2 guests · 1 bed · 1 bath
CLEAN & COMFY JETTED TUB, PRIVACY,KING BED, VIEWS
I HAVE THE EQUIPMENT AND USE IT AFTER EACH CHECK OUT TO PROPERLY STERILISE AND PREVENT GUESTS FROM GETTING SICK. Million Dollar View from your bedroom and private balcony. Comfy King size Tempurpedic bed and and a Twin bed FOR A GUEST #3 upon request, walk- in closet, writing desk and 2 chairs. TV and WiFi . Only 17 min. minutes drive from the Airport and super close to many waterfalls hiking trails and 4 minutes to Edgefield. Lovely and clean place.
What guests are saying:
"Most Personal experience we have had! Not only is there one note to great you, but the snacks are personalized with your names on them. Olga and her daughter took the time to find the soaps without coconut (my wife is allergic) and place them on counter with personal note. This is by far one the best stays we have had thru-out the country. The amount of effort they put into making this a comforting stay is amazing, the Towells become elephants and snacks of all kinds. Parking is very ample and the place is in good easy access. The town of Troutdale looks very cute, and Olga's place is very close to the waterfalls! So many good hikes and waterfalls nearby. If it's available stay here!"
Sunrise, sunset delight!!! Extremly clean and sanitized! Stunning mountain and lake views. Yard on the lake, chiminea, walking, bike riding, frisbee golf, paddle boards, paddle boat. Nestled in a quiet, serene yet welcoming community with coastal feel, our lakeside apartment has all the comforts one needs to experience true NW living. If you love the water, wildlife, nature and the true gift of the great outdoors, we think you'll find this lakefront get away a little step back in time.
What guests are saying:
"Okay here goes. I have never airbnbed before. I am 50 and have traveled all over and staying in Hotels, Motels, and Boatels world round! The day we had our car all packed up to go stay on Tamara's lake I read a bad review of her room and suddenly wondered if we have made a good choice. Tamara was wonderful! She said we could come early if we wanted. That she would text us when the room was ready. That we could use the dock until the room was clean! And clean it was! It was clean enough for us to eat off the floor! ( I later found out Tamara owns a business called all about clean) The first day we stayed in and used the BBQ on the patio. It was a very private space. Tamara has a small storage place on the lower patio but she said if she needed to get anything she would text us. The patio we were on was very tucked in and we felt totally secluded. We were there for a 2 night stay. The next morning we took out the paddle boat and it was a beautiful ride. The weather was amazing! We spent our day out on the dock. If we needed anything Tamara was there! She even gave us a few food items we forgot to bring. We could hear people walking upstairs. No more then you would if you lived in an appt. This was way better then any hotel as far as it being very private. Our last night we bbqed again. It was a great night. The day we left i'm sure glad Tamara was there!"