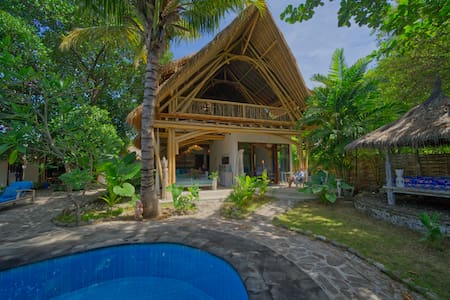 SUPERHOST
Room in boutique hotel · 2 guests · 1 bed · 1 private bath
Brand New Deluxe Room @ Villa Nangka
Welcome to Villa Nangka – a unique hidden gem at the heart of Gili Air. Our dream was to create a unique place on a tropical island. Since we opened the doors of our little paradise we've been awarded every year with a 'Certificate of Excellence' by Tripadvisor and received the Airbnb 'Super Host' badge 15 times in a row! Villa Nangka is a place where you will immediately feel at home and where we will make sure your stay will be a memorable and unforgettable one!
What guests are saying:
"Where do I even start? If you're looking for places on Gili Air, stop browsing and book here. Everything is super comfortable, room has all of the amenities for a great stay, and there are so many nice personal touches you'll feel like they've mistaken you for someone important 😀 The rooms are great, and what sets this place apart is the hospitality and sense of community that the staff and owners establish here. The common spaces promote interaction with other guests and staff, though very easy to just do your thing and carry on in what ever way you want. As I see it, travel to places like Gili Air creates opportunity to interact with others and promote global understanding and commonalities, and the physical space, staff and owners all help make that happen here. So back to where I started; no need to look further. Just book this place and be done!"
Huge reduced rates! Help keep our staff employed. Have the authentic experience of living in a tropical home in paradise. Our own spacious holiday home has a lovely large garden and pool. Located amongst the coconuts, close to sunset beach bars. Bluetooth your music to the stereo and chill! Note: our prices are so low right now as we don't have hot water at the moment (no biggie in this climate!) - take advantage and save!
What guests are saying:
"We loved our stay! The house is unique, wide open walls, and only possible to be such a place because of its location on such a tropical island! Most places on Gili to rent seem to be bungalows in bungalow complexes and Castaways is a separate free standing individual house/home. Super unique! The open walls (as the pictures show well) was such a special experience to live with! The location is great for accessing any part of Gili Air. Host and their local staff always responded promptly to our requests and needs! The place offered us a spaciousness which was very appreciated by us as a couple traveling for 2 months together."
Casa Koko is a one-bedroom boutique villa, featuring an en-suite bathroom, a relaxing lounge area and your very own swimming pool. This stylish, modern villa, influenced by the exotic east, boasts an excellent location, close to to everything anyone might want to do in Gili Air. Simple yet elegant, Casa Koko brings guests comfort and privacy in the heart of Gili Air, with a lush garden full of light, creating a perfect oasis to relax. 
What guests are saying:
"Located 25 seconds from the harbour (really, that close), this beautiful spot is highly recommended if you're visiting Gili Air. Yes, you can go cheaper (a lot), but if you want peace & quiet, a big place with lots of privacy, your own swimming pool and great breakfasts; look nu further. Sopian and his team are great hosts and are available for any request (the hospitality is that good that it almost made us a bit uncomfortable) and will help you with everything you're looking for whilst staying on the relaxing island. Two points of attention; - the pool wasn't crystal clear, maybe due to the hard winds we had, dust and some airborne sand? - the watercooler is just a dispenser, the cooling part is broken. After asking about this, we heard that they had "no time to repair this". Not a big issue, but for this kind of money the location should be able to get it serviced. In the end; one of the highlights of our Bali-trip at one of the most relaxing locations."