Apartment completely renovated by a French designer, following the European standard with all Comfort and attention to detail to make our travellers' stay pleasant, residence, apartment with stunning views, serviced by double elevator, air-conditioned apartment, balcony, all comfort, WIFI Internet, cable TV, Smart TV, common swimming pool. Close to downtown Kuah, night market, and restorations. Secure accommodation with views of the apartment, double lift, air-conditioned apartment, balcony, comfort, WIFI internet, cable TV, public pool enslavement. Near the melon, the night market and the repair center.
What guests are saying:
"First and foremost this place grew on us. The building is not fancy and could use some renovations but the actual condo is properly renovated. Once you open the condo door it's a whole other world. We spent three weeks here, taking a break and flying to Bali. We were soo relieved to come back. It was very comfortable and awesome to just sleep in and make coffee or breakfast on our own time. I will say this condo is between 20-30 minutes from the most popular beaches and airport. The cost for grab from the airport to the condo was: 26 ringit one way for reference. I recommend this place if you rent a car like we did or a scooter. The jetty point is roughly 5-10 minutes away and highly recommend you book a ferry and stay a night or two in Koh Lipe from hear. The con for this condo is that the bed is a double bed as opposed to a king size bed but aside from that we felt it was good value for money. Aircon was strong, shower was good and who ever dither renovations properly sealed every nook and cranny aka absolutely no bugs were seen during our three week stay. The cherry on top, the other tenants were very polite and welcoming which added to the positive experience."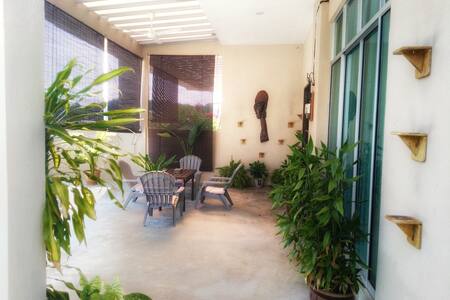 SUPERHOST
Entire bungalow · 10 guests · 7 beds · 6 baths
五感 2 ~独用别墅(中文房东) / Wu Senses 2 ~ Entire House
Wu (5 in mandarin) Senses Sanctuary is where you can find LOVE & TIME for yourself and your love ones to awaken your 5 senses...... We are located in kuah, at the center of langkawi where u can truly experience the local lifestyle. Most of the famous attraction is within 3 min (1km) to 30 min. We have 3 semi detached houses side by side. ~ WU SENSES SANCTUARY https://abnb.me/HyVDSAuh1O ~ WU SENSES SANCTUARY 2 https://abnb.me/68ROam8h1O ~WU SENSES SANCTUARY 3 https://abnb.me/STCg3g4g1O
What guests are saying:
"The landlord is super nice. It can be said that it is warm like a loved one, so that you really have the warmth of going home. The response to various questions is very timely. We have provided us with many suggestions and help that I thought of and could not think of. If you are lucky enough to order her The house of the family will have a beautiful friendship, highly recommended, and good quality and good listings. The house is a double-storey villa. It is large, clean, fully furnished, and can be used for cooking and laundry. The key price is a very low price for similar listings. The price is very high. It is highly recommended. I hope you will be lucky to travel to Langkawi. Book your house and wish you good luck!"
Looking for a tranquil getaway away from the busy streets and tourist crowds? Want to stay in a peaceful retreat overlooking breathtaking sea views and nature? Then Rama Rama is the perfect place for you. Reconnect with nature, and disconnect from the crowds. Our third studio unit comes with 2 single beds, air condition, en-suite bathroom with hot water, and a private terrace overlooking the Andaman sea. It has everything you need for a tropical experience combined with modern day comfort.
What guests are saying:
"It was a fanatastic stay. The location is perfect for people wanting to relax in a quiet place and nature. To reach the attractions it is necessary to get a grab or to rent a scooter. The room was not very special but cozy and very clean with a breathtaking view. We also got a very good and detailled instruction and information. We enjoyed it very much. Thank you so much!"