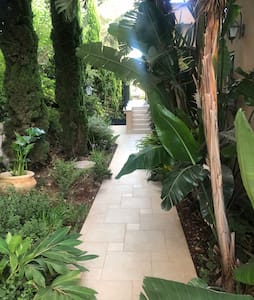 SUPERHOST
Entire guest suite · 2 guests · 0 beds · 1 bath
Private and luxurious apartment in Kfar vradim
The apartment is brand new and fully equipped with everything needed for a perfect get away. The apartment is located 20 minutes drive away from Meron mountain and 20 minutes from the beach. You will find wonderful restaurants, pubs and bars within a 2-minutes drive, Feel comfortable asking us for recommendations. The apartment is equipped with kitchenette, microwave, coffee machine, dining area and great private hot tub. You can also enjoy a private and lovely Spanish terrace.
What guests are saying:
"Very comfortable and pretty. Comfortable bed. Enjoyed the jacuzzi. Enjoyed being surrounded by green, being right across the street from a little path into nature with a beautiful view, and being very centrally located in Northern Israel."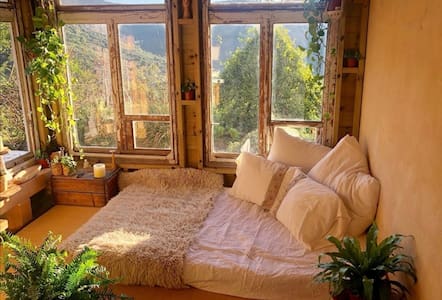 SUPERHOST
Entire guest suite · 2 guests · 1 bed · 1.5 baths
Airy small apartment, Galilee, 5 min from clil
Small cozy apartment, next to our (it have shear wall) but completely private. breathtaking view from the bed, the sun get into the bed at morning . small kitchen everything you need for tea or coffee or even small cooking דירת סטודיו נעימה ונקיה , צמודה לבית שלנו. עם כניסה נפרדת ופרטיות, שקטה צנועה ונעימה. כניסה פרטית מיטה לכיוון הנוף וקצת כמו לישון בחוץ מתאים למי שאוהב לקום עם השמש ששולחת קרנים לתוך המיטה שרותים ומקלחת פרטיים. גבול שמורת טבע, מיקום מעולה למטפסים, מרחק הליכה מצוקי גיתה.
What guests are saying:
"This is a wonderland in a beautiful part of Isreal. The space is lovely, we enjoyed very much having a fire and looking at the stars in the incredible garden. I highly recommend for a quiet get away in nature"
SUPERHOST
Entire villa · 12 guests · 7 beds · 2.5 baths
Country-Style House by the Nature, Western Galilee
ביטול בהתראה של 24 שעות - אם יהיה סגר בינעירוני עקב וירוס הקורונה, כמו שהיה לפני ערב פסח, שימנע את הגעת האורחים לביתנו, אז ניתן יהיה לבטל הזמנה ללא תשלום בהודעה בכתב תוך 24 שעות ממועד הכרזת הסגר. הבית נגיש לגמרי נכים - פרטים בהמשך. ביתנו שוכן במצפה גיתה שבגליל המערבי, בגובה 430 מ' מעל פני הים, בצמוד לשמורת הטבע נחל בית העמק. הוא מוקף ישובים דרוזיים ציוריים, טבע ומטעי זיתים והים נשקף ממנו. כאן תחוו שקיעות יפהפיות, בריזות מרעננות (גם בקיץ) ותצאו לטבע ישר מהבית הנותן תחושה של פרטיות, שקט ורוגע.
What guests are saying:
"Huge house with an amazing style, located in one of the most beautiful and peaceful spot in Northern Israel. Rafi was responsive, helpful and caring! We were 9 friends but families would love it here too. Very recommended!"