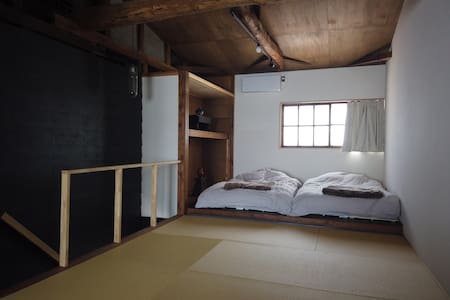 SUPERHOST
Entire house · 6 guests · 2 beds · 1 bath
6月から中国地方の方の予約を受け付けてます。他都道府県方はCAMPFIREのクラファンを確認下さい。
《コロナウイルス対策についてご一読ください》 6月1日から中国5県の移動自粛が解除になり、中国地方の県をまたいでの移動が可能になりましたので、鳥取県・島根県・広島県・山口県の方からのご予約の受付を開始いたしました。 ネガティブなニュースが多い中、少しでも安心でゆったりと穏やかな時間と空間を提供することで、ポジティブな気持ちになって頂き、中国地方の方の気分転換の場になれば幸いです。 他都道府県からのお客様に関しましては、只今CAMPFIREでのクラウドファンディングで未来の宿泊券・宿泊割引券でのご支援を募っております。 ご協力のほど。何卒お願い致します。 《shitsuで行なっている対策》 ・セルフチェックイン・チェックアウトなので、他者との接触はありません。 ・室内・寝具・ドアノブなどの除菌清掃。 ・清掃中の換気。 ・清掃スタッフの手洗いうがいの徹底。 ・清掃スタッフのマスク・手袋の着用
What guests are saying:
"My wife saw an instagram and made a reservation. The flowers, tableware, interior and amenity welcomed me, and the feeling of a good mix of old and simple new things ... everything was a very comfortable space to taste. It was close to Izumo Station, convenience stores and public baths nearby, and I was grateful that it was a convenient place. Also, when I consulted about recommended dining places, I immediately responded and was saved. When I traveled to Izumo, it became an inn that I wanted to use."
"Welcome to the space where you forget the time" Our inn is an inn where you can interact with this land. This special place that you have carefully selected and selected is where you can enjoy Izumo Taisha Shrine, Inasa Sea, the history of the city, delicious food, local interaction, and the old and new things of this area within walking distance. can. Once a year, gods from all over Japan can gather to walk to the "God-Going Way" to Izumo Taisha Shrine. You can visit Izumo Taisha Shrine for a connection, or you can have fun playing in the beautiful sea and fishing. By exploring the city on a free bicycle (there are 4 cars), you can discover a lot of the history and taste of the city that cannot be found by car or train. If you look up at the sky from the wood deck at night in Izumo, the starry sky will be perfect if it is clear, and beautiful clouds will spread if it is cloudy. do you know? The clouds you see in Izumo are incredibly beautiful when illuminated by the moonlight. Clouds are recommended! The only weakness of this city is that it doesn't open at night, but there are two shops that are open until midnight, 4 minutes on foot from our inn! Both delicious fish and local chicken stores and Japanese black beef yakiniku restaurants are wonderful. Quiet, beautiful, but fun and warm, enjoy the special time flowing in this place.
What guests are saying:
"This is a one of a kind, beautiful place! It was centrally located to the Izumo-Taisha shrine and beach. When we first entered, we were delighted to see such thoughtful amenities and a modern space. Cleanliness was beyond my expectation. Also, the beds are so comfortable!! It was above hotel quality :). Each room has a temperature control that effectively worked. The only regret is I didn't stay longer, but I hope to return one day. Thank you!"
It has been refurbished in a fashionable building that was a dining establishment and residence in one corner of the downtown area. In addition, you can enjoy the image of the exterior and the gap in the room.
What guests are saying:
"Good sound quality speaker, fragrant softener, shampoos, soft sheets, comfortable futons, temperature and humidity can be set for each room, good washing and drying machine (drum type), sofas are comfortable, and they are on the picture It has been upgraded even more than the room. The owner also did a very good job and adjusted the check-in and check-out times. I was able to spend slowly. The cup was chilled and the floor was clean. The balcony was also pleasant. I'll definitely come again. I'm really thankful to you."