This quaint 2bd/1ba cottage is located directly off the world-famous Avenue of the Giants scenic drive which is an outstanding display of the giant redwood trees. The cottage has two decks ideally located for morning coffee/ afternoon barbecues. The large meadow on this 5 acre property is for guest use. The cottage sits 1 mile from downtown Miranda. There is plenty to do around the ancient redwood forests including hiking, swimming, biking, and so much more Instagram @redcottage_avegiants
What guests are saying:
"We stayed here one night on our 2 week 25th anniversary trip throughout the west. Marisa's place was amazing. Spotless clean. Being on the avenue of the giants was a highlight! The house has tons of room. Everything you need for a one night stay or several nights stay. She has put a lot of charm and detail into a vintage little house. As soon as you opened the door, it smelled clean!! It feels like you are home. Marisa was always prompt in her responses. Easy access to the town down the Rd (Maranda). Highly recommend this charmer if you're in the area!"
A roadside attraction without the distraction. A car goes by, a bicyclist or walker passes, swallows dip and dart. This circa 1890s former blacksmith shop is twenty feet to the peaceful Pacific Coast Highway, and a quick walk to a secluded beach. Westport boomed in 1878 and was the largest town north of San Francisco, but truth be told, not much happens here any more. Open and airy and cozy and happy, packed with strange and varied art work. Enjoy cooking and napping, reading or staring, and the endless changing Pacific off the deck. Writers, escapists, and creative types will appreciate the solitude of the detached artist studio. One bedroom is cozy and dark, the other bright, with a view to the ocean and a loaded bookshelf. The kitchen has a 4 burner gas range/oven and coffee maker. The living area has a long table for a gourmet spread or a project. Bath with shower, washer and dryer, and the Lost Coast's largest collection of those plaster fish. Watch a DVD or listen to music. Play a game. Be inspired. Soak in the hot tub or just sit on the porch in comfortable adarondack chairs. Outside you will find a 100 square foot artist studio with another large deck. There is a writing desk inside and a stereo system for ipod/computer hookup with two indoor speakers. Great space to do some morning yoga or painting. There is also a very comfortable oversized chair that converts to a twin size sleeper bed. Extra sheets/blankets are next to the sofa sleeper. You will also find a charcoal grill outside. There sandy beaches just a block away and down the bluffs to stairs. All the nearby beaches are dog friendly too and pets are welcome in my home. Buy local! The Westport General store sells beer and staples and makes great organic sandwiches and pizzas to order. The Westport Hotel and Old Abalone Pub serves dinners on the weekends. Off high-way parking for two cars. Note that the side yard is a sculpture construction site for The Westport Whale, a future roadside attraction. This place has all the basic amenities without the frills. The exterior of the house is almost completely renovated fully restoring it to it's historic state. It is my Dream and my favorite place to be in the whole world. I hope you will enjoy it too.
What guests are saying:
"Kyles place is one of the great gems you are sometimes lucky to find in your Airbnb experiences. If you drove north on the coastal highway to get there, you will already have been astounded by the scenery leading up to Westport, that is a given, and yet, upon arrival, you find a wonderful house so meticulously decorated with gorgeous, colorful, and truly smile inducing art work, that in a new and invigorating way, the wonder of the coastal drive is wonderfully enhanced the moment you enter the house! This is not a typical place that you arrive at after a long drive, it is a new scenery unto itself: simply, it is rare that you show up to your place and have as much excitement for the dwelling as you do with the scenery of the area you have traveled through. The views are excellent, kitchen, bedroom, porch, yard, all clear views of the Pacific. BBQ, hot tub, full kitchen, huge dinner table and outdoor picnic tables, Adirondack chairs facing a fire pit that looks out to the ocean!! There is too much to entail!! You will not be disappointed if you are lucky enough to stay here."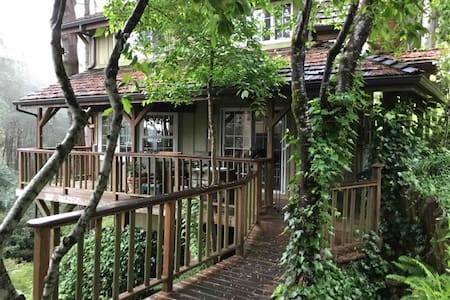 SUPERHOST
Entire guesthouse · 3 guests · 2 beds · 1 bath
Best Hidden Secret in the Redwoods. BEL Rancho
This charming forest cabin is nestled in the forest with complete privacy and yet minutes from town and roads leading in all directions. Easy access and beautiful views. Complete with small kitchen,central air and heating,Free cable and flat screen tv to watch ,outdoor bbq,covered outside covered deck and outdoor furniture, with a great 180 deg. Panoramic view of the Salmon Creek valley. You will truly feel as though you are floating in a tree house....
What guests are saying:
"We loved this very private get-away space! The hosts are every friendly and helpful, but let us be as isolated as we wanted. Everything was clean, comfortable and ready for occupancy. Only 2 things we would do differently--bring paper plates, as the dish washing set-up on the porch needed us to heat water (though we actually loved the novelty of doing dishes out in the breeze), and we would have stayed a day longer! If you're looking for a place to relax in nature that is not far from Avenue of the Giants redwood park, water sports on the river or other local attractions, this is perfect. The road to reach it is somewhat narrow, but paved. Be aware that GPS drops off just when you need it, so read Brian's directions ahead of time. We loved it!"