"Beautiful house by the sea, ocean front, wonderful sunrise and sunset together. It is a great place to spend time with your family in the sea and a one-minute private accommodation. There is a separate bedroom on the ground floor so that traveling over two families is not inconvenient. In front of the hostel, you can enjoy water sports such as windsurfing, fishing, etc. Relaxed outdoor dining and barbecue on the ground-floor outdoor bench. It is 5 to 10 minutes' walk from Holtong beach with pine forest. Nearby restaurants: * First meeting (Demand gourmet) * Grand Garden - Cold noodles, Kalguksu * Wando Fishery Co., Ltd. * Shrimp farm * Map aquatic fish aquarium - Natural fish such as croaker, fish, and various salted fish * Mongsan Ansung Restaurant * Local specialties: sweet potato, onion, cabbage Places to visit * Muan Ilro Ilsan * Tidal Flat Experience Center * Hampyeong seawater steamed * Hampyeong Nature Ecological Park * MongTan Air Show (Children's Experience) Nearby Mart It is convenient to buy Hyang Kyung-myeon Hanaro Mart (15 minutes by car).
What guests are saying:
"In order to be very satisfied with the first visit, I highly recommended it for a long trip and came back to the second. The people who went with them were also satisfied, and the parties were also considering additional visits with their families. Even though it is 40 minutes from Gwangju, it is good to enjoy a quiet leisure rest. It was good to be able to use it alone, and it showed me how to operate the boiler, but it was very warm and cozy even without turning on the boiler. Hot water is also coming out ~ The view is also good. (I can see the sea through the window. When the sun goes down, I watch the sun and the sunset is art ~) If you go once, you will go twice, three times It's really a beautiful beach house ~ "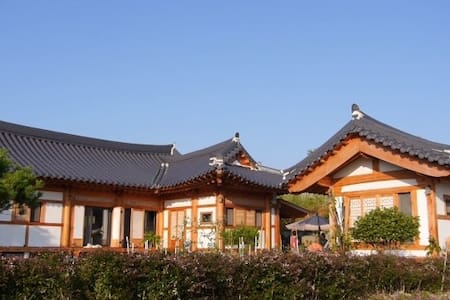 SUPERHOST
Entire guesthouse · 5 guests · 1 bed · 1 bath
함평 한옥마을-함평이야기 (Hampyeong Korean Traditional House)
It is a traditional hanok in the village of Chopo Hanok which has Pohang and Hapmigi beaches on the left and right. The place where the guest is to take out will light the room by the fire. It is a pretty spacious room of 7 pyeong, so it is good for 4-5 families or friends to stay together. Come and stay with us in a modernized Korean traditional house. Newly built in 2015, our place invites guests to experience both the age-old wisdom found in Korean traditional architecture including 'Ondol' (floor heating system) and the conveniences of modern features. The place overlooks the beach which is within 5 minutes' walking distance.
What guests are saying:
"I went because I needed healing, but I had a very happy time. It was good to take a walk in Jupo Hanok Village, see the sea in front of it, and watch the sea from the bridge in the beach. The host is very friendly and the fire is warm. I had sweet potatoes and eggs for breakfast, so I ate them deliciously. I want to come again in time. The village itself is also peaceful and friendly. My dog also liked the world, and the price was cheap, but it was very satisfying ♡♡"
[Naseojin Hanok] This is a country house newly renovated in October 2019. My grandparents, parents, and now, sometimes, the space where I and my children have come to play Now, we have made it a space that can be used by other people as well as our family. The exterior looks like an old country house, but it is constructed so that there is no great inconvenience inside. This is a space that can be used by only one team of reserved guests. I think it would be nice if you came. Songhyeon Bulgogi, which appeared in the Three Kings of Heaven, is a 3-minute drive away, and a 5-minute drive There are downtown and Gomtang streets, so you won't have any inconvenience when looking at meals or shopping. Precautions * This is a space for me and children to be together. Therefore, we ask that all of the spaces outside of our accommodation be smoke-free.
What guests are saying:
"It's so nice to say, "Where is this place in Naju?" When it was dark, I was a little scared to go in after checking in, but I was really impressed by the fact that I just got in. It was warm because the host turned on the heating sensibly. I couldn't use the barbecue facilities due to the lack of time, but if you have time, try using the barbecue. It was also nice to have a table, TV and air conditioning in the annex. And the interior is remodeled, so it's really neat. I liked the bathroom floor because it was warm. Rest well."