The apartment is located on the first floor of a villa overlooking the entire gulf and immersed in a typical Sorrento garden with lemons, oranges and olive trees; It has a private bathroom, a fully equipped kitchen, a balcony with lemon grove views; Guests can use the outdoor spaces and the solarium freely. It is reachable from the central Piazza Tasso (1,2 km) either by car or by bike in 5 minutes and by foot in about 15 minutes. Parking is free.
What guests are saying:
"Massimiliano's place is one of the best Airbnb stays I've ever had. We came to Sorrento in the offseason and didn't expect the location to be in an orange/lemon/olive oil grove and it was one of the best surprises. We were surrounded by beautiful trees and not to mention the view of the entire city. The front door opens to the coastal mountain town where you can see Naples across the water and the volcano Pompeii in the distance. Massimiliano made our trip even better by offering some amazing recommendations of places to go and food to eat that were some of our favorites of the whole trip! Cannot recommend this place enough. Go to da fillipa to eat! And like all the other reviews mention, he picked us up and dropped us off from the train station which was a game changer!"
The apartment is located 600 meters (0.4 miles) from Sorrento & less than 200 meters (0.1 miles) from the Sant'Agnello station, where you have easy access to Rome, Naples, Pompei, Amalfi, Positano by buses or trains. It's located in a quiet area. Perfect for all travelers, (family welcomed!). Many free amenities are included. Within 2 mins on foot, you can reach the city center (supermarkets, restaurants, etc.) Within 7 mins of walk, you can reach beach area for a fantastic view of the gulf.
What guests are saying:
"Ultra-positive and non-recommended experience. Marco was of an enviable availability and precision, the perfect home for all needs. In a few square meters you will have everything, from the practical kitchen, to the well-kept bathroom up to a delicious bedroom with air conditioning to keep you company in case of excessive heat. Do not underestimate the truly double bed and not the usual accrocco found in many places where 2 single beds are pushed together as a double. Perfect position to visit Sorrento and surroundings, by car we had no problems finding parking or reaching the center. Price quality from 10 and praise. If we return Marco will remain our point of reference."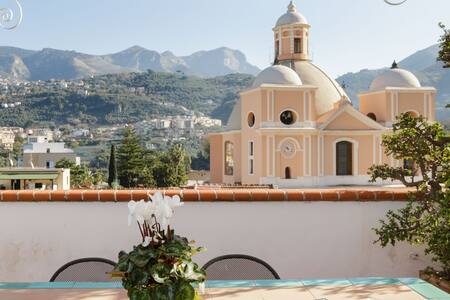 PLUS
Entire apartment · 2 guests · 1 bed · 1 bath
Sunny Attic Apartment with Stunning Coastline and City Views
Awaken as morning sun pours through attic skylights. Cross cool tiled floors to brew coffee on a gas cooktop. Step onto a shaded rooftop terrace with 360-degree views encompassing a hillside town, mountains, majestic coastline, and endless ocean.
What guests are saying:
"What more can I say than WOW! The apartment has everything you need: a good bathroom (really nice shower, enough towels, shampoo, conditioner and showergel) and a well equipped kitchen. Fabrizio even left us a "welcome drink" (very nice Prosecco!). And, as seen on the photos of the apartment, the terrace is amazing. Perfect place to have breakfast in the morning or drink a glass of wine in the evening. I am a bit of a gadget nerd so the fact that you had to control the skylights with a remote (or as Fabrizio calls it, a videogame ;) ) and that the apartment has wireless speakers everywhere (all connected to the Spotify account on the tv), had me hooked! loved it! The apartment is in a small town, more quiet than the bigger towns like sorento. Perfect if you ask us. It has a small beach, good restaurants and a supermarket. The thing that made our stay even more amazing (if that is even possible) was the host: Fabrizio is one of the most loveliest people we have ever met. He does everything to make you as comfortable as possible, provides you with lots of local tips and is very easy to communicate with. We couldn't have wished for a better stay and we can't wait to go back to this Airbnb."