My place is close to parks, restaurants and dining, and great views. My place is good for couples, solo adventurers, business travelers, families (with kids), big groups, and furry friends (pets).
Room Type
Private room
---
Property Type
House
---
Accommodates
1
---
Bedrooms
Mounds View, MN, United States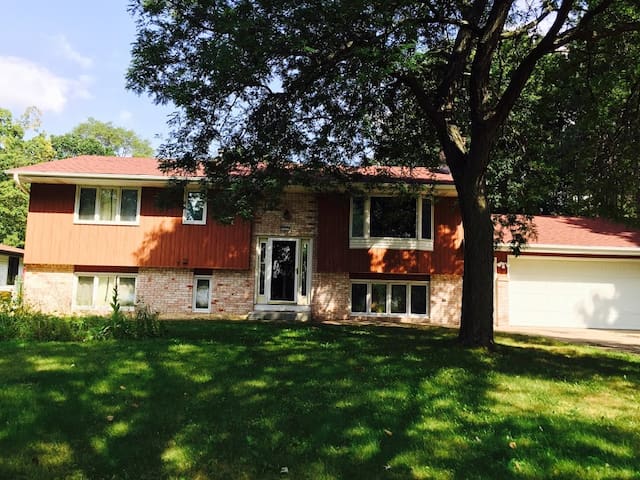 15 minutes from downtown Minneapolis located in a quiet north suburb, 1 mile from hwy 35. With off street parking and directly on the busline, we're located conveniently near a grocer, convenience stores, and restaurants. All are welcome here.
It's like coming home.
Quiet, diverse, full of families, active, pet friendly.
Room Type
Private room
---
Property Type
House
---
Accommodates
2
---
Bedrooms
Mounds View, MN, United States
Our home is your home. Come and enjoy our fully updated guest room with all the amenities you enjoy at home. Roseville is 15min from both saint Paul and Minneapolis.
Very cozy better than a hotel! Plenty of space, very private. Easy access to the cities!
My neighbors are great. They are all long time residents. I'm the new guy on the block and so far everyone is friendly and kind.
Caleb was very welcoming and excited to have a guest. It was very enjoyable getting to know him. We found we had many things in common. He was very open and trusting. He was flexible on check-in. Nice modern home. I had the entire lower level to myself. Wish he would've had another night open but he was booked up.
GEORGE
2016-09-03T00:00:00Z
Caleb made my transition up to Minneapolis for a new job exceptionally smooth. Thoroughly enjoyed my stay at his place as he was incredibly accommodating and an excellent host.
Ryan
2016-10-04T00:00:00Z
Caleb is the kindest, most accommodating host. I had such a pleasant stay at his place.
Lara
2017-02-20T00:00:00Z
Caleb is very nice and friendly and really makes me feel at home. Their pet dog Rusty was initially cautious but gets familiar with me after a while lol. The guest room downstairs is quite the same as the photos shown. It's very comfortable for a good sleep. The breakfast is anything you want. And you have everything like bath towers, a washer and dryer, and backup toothpaste! Theres also a beautiful lake nearby. Overall it's a very good experience. The only downside might be a bit away from public transit so better to ride there in a car.
Tao
2016-09-18T00:00:00Z
Room Type
Private room
---
Property Type
House
---
Accommodates
2
---
Bedrooms
Roseville, MN, United States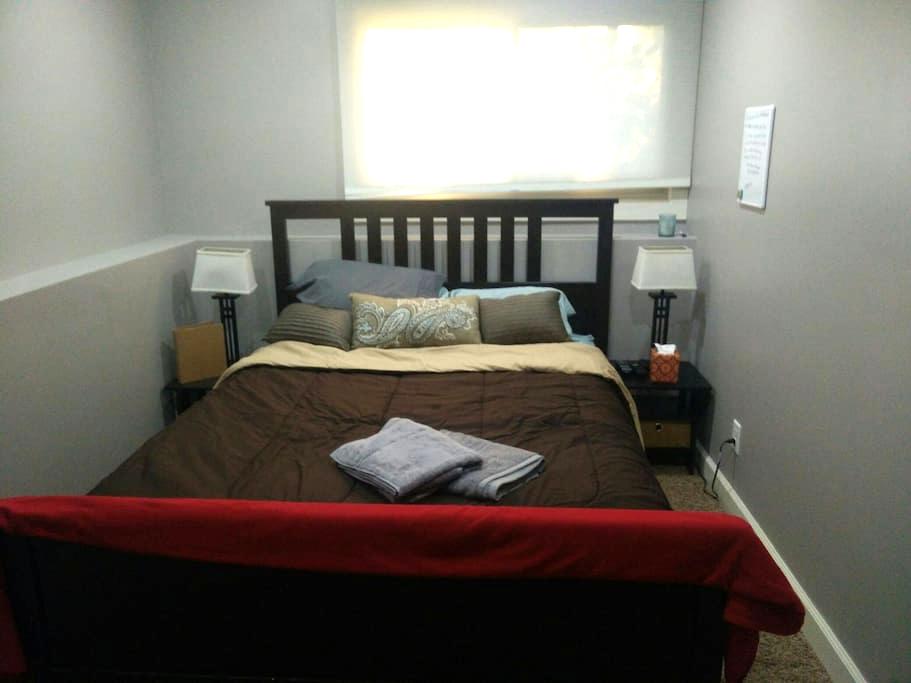 This (Twin bed) room is the perfect fit for one, but can work for two. Steps away from a full bath, its equipped with a twin bed, clean pillows and sheets along with an armoire that will fit your traveling necessities. Expect to meet other friendly airbnb guests during your stay:)
This room is the perfect fit for one, but can work for two. Steps away from a full bath, its equipped with a twin bed, clean pillows and sheets along with an armoire that will fit your traveling necessities.
I stayed in the Blue Twin which actually has a very comfortable double bed! I met Doug a couple times and he was so happy and friendly, perfect host who made me feel welcome and respected. The room is small which did not bother me for two nights' sleeping but if you want spacious, opt for the other room. I ran into the other guests and all were quite friendly and so were their dogs. The bathroom is shared by as many as maybe 6-7+ people so keep that in mind if you require your own space. I tend to do hair and makeup sometimes so I had to dip in and out to share the mirror but for staying on a budget this place was perfect. About a 20 minute drive from most places I went to in the cities, which again, I didn't mind for the price, it was a perfect place for me and I'd definitely stay again.
Yolanda
2017-02-11T00:00:00Z
Great location great value! Thanks doug!
Will
2016-10-21T00:00:00Z
My husband and I made the laat minute decision to look for a room during our trip - I have never used a shared room before and has my doubts but I could not have been more pleased. We arrived a tad earlier than I had told him so my husband and I made a trip to a Walmart that was fairly close and convient. When we arrived back to the house we had fresh towels, blankets, and a key to our room! Our experience was great and would forsure stay again!
LaKeya
2016-07-25T00:00:00Z
Doug's place was great again. Clean, good neighborhood, quite. I slept well and have booked future stays.
Ryan
2017-02-03T00:00:00Z
Very Friendly and hospitable
William
2017-02-07T00:00:00Z
Doug was an AMAZING host!! It honestly felt like a home away from home. He provided excellent communication during booking, arrival, during the stay, and even afterwards when I left an item at his place. The room was very comfortable and the house provided everything that I needed including a full kitchen for storing and making food, long lasting hot water for showers, and a workspace with fast wifi for working on my laptop. Great recommendations for local food and breweries also! I highly recommend Doug and will be booking with him again in the future!
Devin
2016-12-09T00:00:00Z
Very accommodating. Would rent here again.
Mykenna
2016-05-07T00:00:00Z
Very comfortable rooms and accommodating host!
Chen
2016-06-27T00:00:00Z
Room Type
Private room
---
Property Type
House
---
Accommodates
2
---
Bedrooms
Minneapolis, MN, United States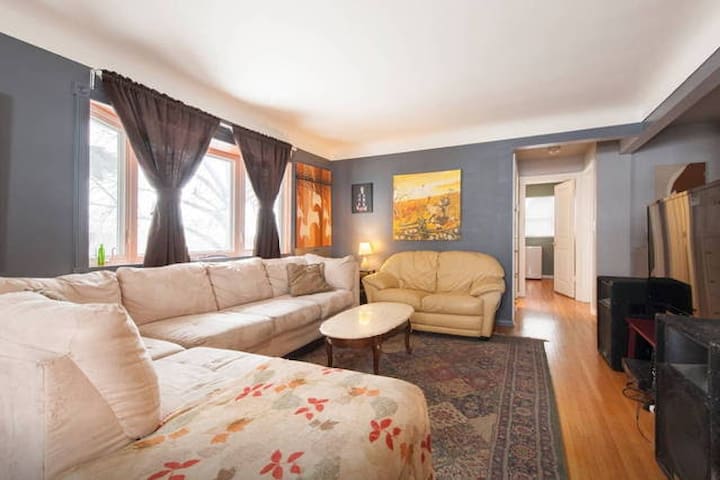 Quiet safe neighborhood 10 miles north of downtown Minneapolis. Separate level suite with comfy bed overlooking pool in fenced-in backyard, newly remodeled bathroom, cozy living room, and 3 season screened porch. Ten miles from MN State Fairgrounds, 3 miles from 2 State Fair Express bus locations.
Quiet neighborhood, relaxing & clean space. Comfy bed in bedroom overlooking fenced-in backyard with pool, next to remodeled private bathroom. Living room space with couch, tv, sink and fridge. Light snacks, water & soda provided. Three season screened in porch with fan to enjoy some fresh air. Pool with table and chairs to enjoy fenced in back yard.
Quiet & safe. Small community, but just 10 miles north of Minneapolis! Police and fire station just across the street. Caribou Coffee, McDonald's, Redbox, Chipotle, Potbelly, Papa Johns, Little Caesars, Aldi, Cub, CVS within 5 min Target, Panera, Leann Chin, Red Lobster, Old Chicago, Best Buy, Northtown Mall, Planet Fitness within 10 min
Jen was very hospitable and her space was perfectly clean and well-maintained in her beautiful suburban home. Everything was as described in her listing and we couldn't have been happier or felt more at home! I would definitely stay here again!
Vernon
2016-07-20T00:00:00Z
Jen's home was fantastic. Beautiful house, very clean, floor to ourselves. Our flight came in later that expected, she was very understanding, gave us the tour, and made us feel very comfortable. I would highly recommend this home. Thanks so much Jen!!!! Casey McClure Knoxville, TN
Casey
2016-10-02T00:00:00Z
Jen's place was exactly as she listed it. Her accommodations were nice, comfortable, quiet and clean. She was the perfect host! We would absolutely stay there again!
Brett
2016-08-28T00:00:00Z
Great stay! Beautiful house. Super nice couple! Friendly, accommodating, etc....
Jenna
2016-08-22T00:00:00Z
Room Type
Private room
---
Property Type
House
---
Accommodates
2
---
Bedrooms
Minneapolis, MN, United States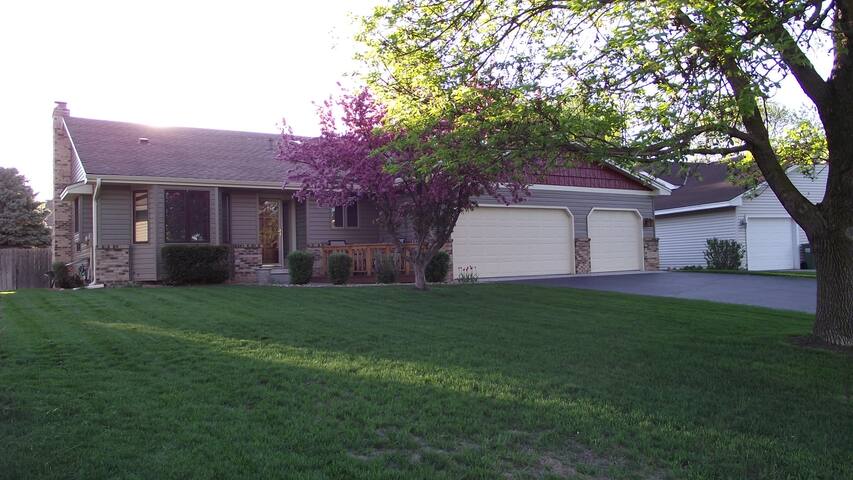 You're invited to our house on the lake: Are you here to explore Minneapolis & St. Paul? Or maybe you need a place to make home for a while. Are you passing through the Twin Cities? Or here for business? Live here and feel right at home.
Live across from a pretty lake, with close access to several parks, biking & hiking trails (we have a bike you can borrow), grocery stores (Trader Joe's, Target, Aldi's), LA Fitness and Lifetime, local restaurants, major hwys to both downtowns, Medtronic & the State Fair. You'll love my place because of the outdoors space, the comfy bed, a cozy living room mostly to yourself to watch tv and relax in, and your own private kitchen to cook delicious meals in (and think fresh herbs in the summer from our garden). Your space will also include a shared very clean bathroom and washer/dryer facilities. You will undoubtedly enjoy the beautiful sunsets on the lake right across the street.
This neighborhood is quiet, has lots of trees, and has beautiful lake and sunset views. Biking and hiking trails are close-by and so are grocery and drugstores.
Great host, great communication, clean, comfortable, private- like a home away from home!
Joseph
2016-10-03T00:00:00Z
Very friendly host in a nice area. We enjoyed our stay.
Alexander
2016-08-29T00:00:00Z
May was a very accomodating host! We were welcomed with cookies and a clean apartment. She was there to greet us and answer any questions we had. She brought dinner down to our friend one night, becuase she wasn't able to get out and go to dinner with us. Another evening she offerred to share lentil soup with us, because I complained about an upset stomach. She made herself available when necessary, but did not hover or intrude upon us.
Julie
2016-10-16T00:00:00Z
Clean, comfortable, and safe! Gorgeous view of the lake! May and her husband were great hosts who really made me feel very welcome and accomadated my every need!
Daniel
2016-08-26T00:00:00Z
Nice quiet country-like location, close to food and shopping. May was a very welcoming and accommodating host.
Karen
2016-09-04T00:00:00Z
Room Type
Private room
---
Property Type
House
---
Accommodates
2
---
Bedrooms
Mounds View, MN, United States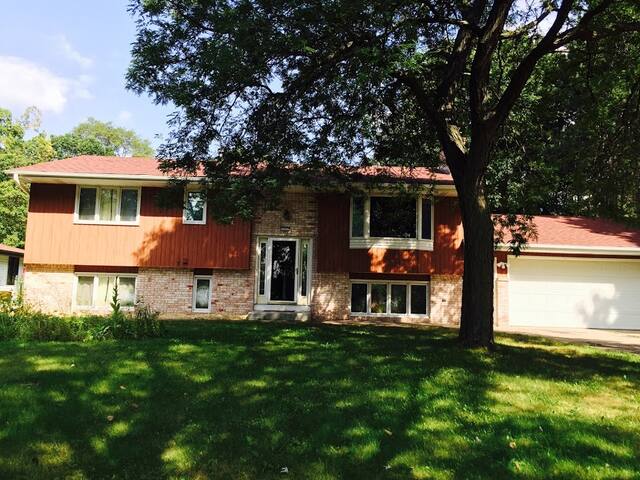 My place is close to the airport, art and culture, parks, and great views. You'll love my place because of the location, the coziness, and the people. My place is good for solo adventurers and business travelers. I live four blocks from the Rice Creek Open Space for walking, biking, or running, and am 15 minutes from both Minneapolis and St. Paul.
I have two adult sons. My 22 year old no longer lives here so I'm using his space for guests. My 19 year old lives with me part time. You would be sharing the bathroom with him when he is here.
I have lived in my home for 18 years and know the neighbors well. They are incredibly kind and quite honestly, nosey (in a good way!) so they may interact with you.
Great place. Driveway parking. Clean House. Comfy bed. Specious Room. Fast Wifi. Great kitchen. Clean bathroom. Felt like own home. Host is great and easy going. 10/10.
Sam
2017-01-13T00:00:00Z
The host canceled this reservation the day before arrival. This is an automated posting.
Silvio
2017-02-16T00:00:00Z
Lisa was attentive, sweet, kind and an amazing host. So many great stories! I'm so glad I got to meet her. I came to have a place to relax and that's exactly what I got! Thanks, Lisa!
LN
2017-01-05T00:00:00Z
She is a really nice person. The house is very clean and comfortable. Definitely recommend people to spend the night here.
Danier
2017-03-19T00:00:00Z
Lisa is super hospitable and her home is really beautiful, great natural light, and cozy. I room was simple and sweet. Just what you need and the bed was super comfy. I didn't really want to get up and do anything once I got in it.
Brittany
2017-03-13T00:00:00Z
Lisa's Place was very nice very conveniently located right off of the main freeway.... I would definitely recommend
Duane
2017-03-17T00:00:00Z
As a repeat customer to Lisa's home, I was greeted warmly last evening. She was wonderful and really made my stay enjoyable!
Mark
2017-03-27T00:00:00Z
There was a comfortable bed and access to a refrigerator. It was exactly what I was looking for and Lisa made it easy for me.
Wanda
2017-01-20T00:00:00Z
Room Type
Private room
---
Property Type
House
---
Accommodates
1
---
Bedrooms
Shoreview, MN, United States
In charming Northeast Minneapolis, with everything you need nearby. Shopping markets, water park, walking trails/parks, restaurants and bars of all styles within walking distance or a mile or two. Only 5 miles from downtown Minneapolis.
Although we didn't spend much time at Shaleena's [visiting granddaughters a short distance away] we enjoyed our visit. Shaleena is a great host. Thanks!!
Lynn
2016-12-28T00:00:00Z
Shaleena and her place was terrific. Great private room. Very clean and quiet. I was there during the day - working at nights and had no difficulty sleeping. I would definitely stay there again.
Jeffrey
2017-03-13T00:00:00Z
Very good at responding and working with me on a time for check-in. Clean place, and comfortable bed.
Pa Nhue
2017-01-01T00:00:00Z
Everything went smoothly, Shaleena is a nice person and apartment is clean, situated in quiet area. Would recommend it.
Milan
2016-09-01T00:00:00Z
Wonderful hostess - would highly recommend to friends and family!
Eli
2016-09-08T00:00:00Z
Shaleena has a very nice house. Room was clean and smells fresh. The bed was very comfortable. Check-in was easy. Would definitely book again when I'm back in Minneapolis
Dat
2016-09-03T00:00:00Z
This was my first time using airbnb. No words can express how happy I was to stay with Shaleena. She was an awesome and welcoming host. She went above and beyond to make sure I had a wonderful stay. I was out in the area for work and she told make sure I visit Mall of America. Her home was exactly as described in the ad. I ended up staying two more days. I definitely recommend her and her place to anyone visiting the area.
Alex
2016-04-10T00:00:00Z
Great host and safe and secure place. I worked nights and slept days - very quiet and easy going folks. I would highly recommend staying at Shaleena's place.
Jeffrey
2017-03-07T00:00:00Z
Room Type
Private room
---
Property Type
House
---
Accommodates
2
---
Bedrooms
Minneapolis, MN, United States
We would love to open our home to you. Located approximately 8 miles from MPLS city center and just minutes from great MPLS neighborhoods, our converted single-family home can welcome you for a short or extended stay.
The cottage is a quaint relaxing home in a small suburb just outside of Minneapolis. We sit an an almost-one acre lot which is planted with vegetable and flower gardens which we welcome you to enjoy.
Very nice stay! Great Location, Nice Neighborhood! Thanks Erin!
Ben
2015-06-22T00:00:00Z
Erin and Amy are great! They always made my stay great!
Sam
2016-10-22T00:00:00Z
The hostesses were very nice, helpful and accommodating, e.g. ……she provided us with a cable box so we could watch the TV, and a new set of sheets so my husband could use the futon. There were plenty of good towels. This apartment is upstairs in an older home, i.e. a converted attic, so it was stuffy with poor ventilation and limited light. Since it was summer, it was quite warm…..there was a window AC in the bed room and a small fan so we bought an extension cord so it would fit in the window to try to move some air in the living room, but still quite stuffy. Could stand a thorough cleaning. There was small desk with folding chair, and kitchen had small table with two chairs but using the futon for sleeping meant there was no comfortable place to sit. Easy access to major N-S highway (MN # 252), but need a car as not near a Metro stop Immediate neighborhood is green and quiet but a few blocks away is public housing with heavy police presence. Thus not the kind of place where one can take an evening stroll, or walk anywhere for that matter.
Gina
2015-07-02T00:00:00Z
Erin, and Amy were wonderful! They gave us a great place to launch our new business and the freedom to keep some odd hours. The place was cozy and clean, and the outside girls(the puppies) were friendly and loving! Infact, we wish we could have seen them more. :) We would stay with them again and again and again! As long term renters, we were able to settle in to the area comfortably and found everything we needed, grocery stores, gas stations and restaurants just minutes from the residence. Stay with Erin...and the rest! You won't regret it!
Wendy
2016-11-30T00:00:00Z
Beautiful home, great host!
Meri
2016-06-27T00:00:00Z
We had a great experience renting the cottage from Erin! The space was very cute and exactly as described. Very clean and inviting, and perfect for bringing our two dogs. The hosts were very friendly but also gave us as much privacy as we wanted. Definitely would stay here again.
Tyler
2015-06-15T00:00:00Z
Beautiful home and a great time. Thank you for being a wonderful host!
john
2016-02-01T00:00:00Z
Erin was a fantastic host--she was very responsive to all communications and was flexible when our arrival time changed. Her directions and instructions for getting to the house and accessing the apartment were clear and helpful. The cottage is clean, adorable and comfortable. We would definitely stay here again!
Becky
2016-06-20T00:00:00Z
Room Type
Entire home/apt
---
Property Type
House
---
Accommodates
4
---
Bedrooms
Minneapolis, MN, United States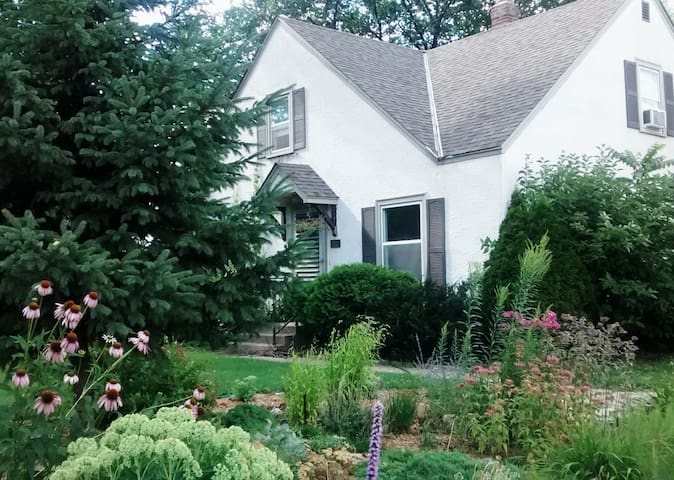 Guest room in our 3 bedroom home. Comfy tall full-sized bed. Nice large yard and deck. Small friendly dog. Clean and spacious home.
Room Type
Private room
---
Property Type
House
---
Accommodates
2
---
Bedrooms
Minneapolis, MN, United States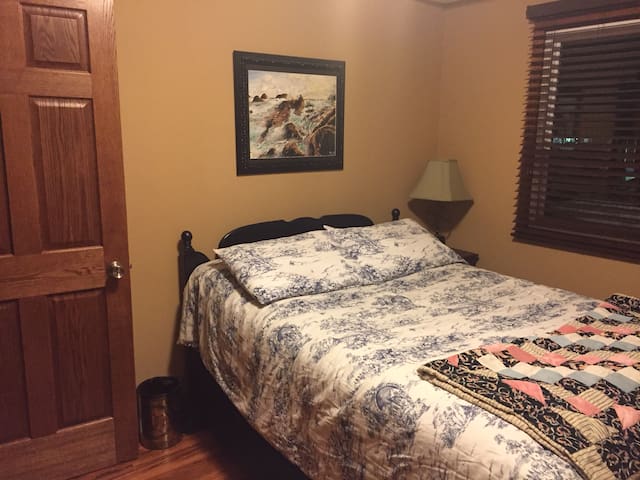 Upscale lake home on a large beautifully landscaped lot with gorgeous unobstructed sunsets & wildlife. The lower level is all yours! Convenient to both downtowns, yet adjacent to acres of open space and 86 miles of paved riding/walking paths. Ample private parking. Enjoy panoramic sunrises and sunsets from the dock,patio,beach,pergola surrounded by a cacophony of wildlife. (Paddleboat, Bicycle Built for Two, Canoe onsite for modest rental.) 'Land of 10,000 lakes', shouldn't you be on one?
This lakeside home is perfectly situated just outside busy downtown, and not too far that you feel out in the boondocks.  The property sits on a beautiful two+ acres of lakeshore right in Shoreview, Minnesota.  Right next door is 80+ acres of open space with abundant wildlife and walkable game trails. There are 86 miles of paved sidewalks throughout this city, and you can start right out front of our home.  The Shoreview Community Center ((website hidden)) is a quick 3-minute walk underneath the tunnel, on the other side of Highway 96.  Visit there to enjoy an indoor water park, a state-of-the-art workout facility, basketball courts, an outdoor skateboard rink, soccer fields and more. We are a five minute walk to the local Ramsey County Shoreview Library. You have a completely private entrance into this space and a large, beautiful yard with which to enjoy.  The entire lower level is yours alone.  A king-size fully-adjustable bed that can aid with snoring or congestion and can be separated to form two double beds, if preferred. Our full bath includes a steam-room option, suitable for two. The two available closets are lined in cedar. Steam available seasonally. The living area has a couch, as well as a large suede-covered log futon. The futon can be folded out to provide another spot to sleep in, approx. twin-size.  There is a new 40-inch LED Smart TV mounted on the wall with basic channel access including Netflix. The mount for the TV can be adjusted to face the beds or the living room area. We enjoy meeting all of our guests, but we respect their privacy and space as well.  Please feel free to interact with us as much, or as little as you'd like! - Close to downtown St. Paul and close to downtown Minneapolis (10-15 minute Uber ride) - You can pick up a metro transit bus across the street, at the upper entrance of the Shoreview Community Center. - Close to many great restaurants and shopping facilities, for example Rosedale Center, Pizza Luce, Paninos, Green Mill, just to name a few.   - On Tuesdays, 3-7pm, there is a farmer's market right across the street in the Shoreview Community Center parking lot. - We are blocks away from an outdoor playground, and 5 minutes drive away from the nearest Cub Foods and Trader Joe's. - Half hour drive from the airport to our location, once you reach us, it is heaven on earth. Our property is located on the north shore of Snail Lake.  We have a dock and many lake activities available, including canoe, kayaks, and a paddle boat.  Our boat is available to rent seasonally, please inquire within.  The sunset is stunning and truly a gift each evening.  We have many seating areas on our property with which to enjoy a glass of wine or a good book.  An extensive bonfire pit greets you down at the lake, just past our vine-covered boathouse.  Feel free to have a bonfire, provided it's not too windy. We will leave a small "fire prep" kit for you to use.  Please do not use the logs stacked up, as we use those for a photography scene.  We will make it clear which wood can be used. Besides living in this beautiful space, we also have a residential photography studio run onsite.  Thirty years in the business, we primarily capture high school senior portraits, families, and individuals.  You will notice a lot of our property has been designed to maximize beautiful outdoor lighting and portrait scenes.
Shoreview is a beautiful suburban area literally across the street from the indoor waterpark and workout facility, Shoreview Community Center. We are located in the middle of 35W and 35E if you need to get into downtown St. Paul or downtown Minneapolis. The community in general are NICE, nice individuals. Nearby large companies include : Boston Scientific, Land O Lakes, Aveda, and more. Nearby colleges include Bethel and Northwestern. Shoreview is ranked 3rd in top 150 cities in Minnesota, among absolute lowest for crime! (URL HIDDEN)
WOW! Staying at Lance's lake home was like a dream for my little family. We were only 15 minutes away from a wedding we were attending in the city. We enjoyed the lake the day of the wedding right outside of Lance's backyard. We swam and took photos of a loon and a green herring. There were several Egret's as well. The ammenities themselves were spotless and comfortable. Lance was attentive and naturally, Minneso-Nice. We had a wonderful time chatting with him lakeside- he was always there when we needed him and also left us to our own devices to explore his property and neighborhood. We look forward to coming back again!
Alisha
2016-07-31T00:00:00Z
Checkin was effortless. Nice place with a great view. Location was perfect for us!
Marc
2016-08-30T00:00:00Z
Really comfortable space. Better than the pictures. Communication is great, including video instructions. Loved the fireplace and wood walls. Hospitality is definitely felt during this experience.
Sam
2017-03-17T00:00:00Z
This was our second time staying here, and as before, it was great! Lance is a very helpful and responsive host, and the lake makes a nice getaway. Will stay here again if we're in the area!
John
2016-07-28T00:00:00Z
These guys get it! Crazy attention to detail and hospitality that was truly over the top. The best mattress of any bnb we've ever stayed in meant we actually caught up on sleep during our 5 nights. Did I mention clean? You could eat off the floor. This is a five star experience. Almost worth a trip to MN just to stay here.
Graham
2016-05-24T00:00:00Z
We loved our time staying at Lance's listing. It is very clean and well equipped. The location is magnificent and is truly a small piece of heaven. Lance is an amazing host and we enjoyed our conversation with him. We strongly recommend this listing.
Maryam
2016-10-05T00:00:00Z
The lake house is just as described. We were having milkshakes out by the lake and a muskrat swam past. There were also deer in the front yard one evening. The place is quiet and restful, way better then any hotel. We'll be back.
Steve
2016-07-26T00:00:00Z
Lance and Ceil, you've set the bar high for hosting. We arrived late in the pouring rain, white knuckled from the drive through a storm from Milwaukee and were chilled to the bone. Lance greeted us with a huge umbrella, walked us into the room where he already had a fire going in the freestanding fireplace. We were welcomed as if we were part of the family. With some complimentary refreshments and plenty of comfort, it definitely helped us unwind. We woke up to a beautiful view of the lake the next day, and while we sipped our coffee we also saw a fox and 3 bald eagles playing overhead. Everything we needed to get away was close by and yet we were only a short ride from the twin cities. Thank you for making us feel at home. We were able to get away, and catch up with our family all in the same weekend in a comfortable place. We'll be sure to return in the future to hike, take advantage of the beautiful surroundings and a relaxing steam.
jeff
2015-10-25T00:00:00Z
Room Type
Entire home/apt
---
Property Type
House
---
Accommodates
4
---
Bedrooms
Saint Paul, MN, United States
Private room a few steps from the bathroom. Cozy queen bed with nice clean pillows and sheets. Plenty of room in the closet for all your traveling necessities. Expect to meet other friendly Airbnb guest as their are 4 private bedrooms in the home.
Doug's home is a true travelers resting spot. There were a myriad of friendly personalities accompanied by a genuine upstanding host. Oh, and the policy of taking your shoes off at the front door was a nice touch. It made me feel at home. The next time I visit Minneapolis, Doug's home will be my first consideration on a list of places to stay.
Joel
2017-01-27T00:00:00Z
I had a great time at Doug's place. Wonderful location, great hosts, and a comfortable and big room. I would definitely love to stat here again.
Travis
2016-07-11T00:00:00Z
Doug was great and super welcoming. I had no problems finding the place and the house is cute and clean. The walls are thin in this old house so the quiet hours implemented are definitely a nice touch. Doug is a great host and I'd recommend this place to anyone looking for a cozy stay in Minneapolis.
Gretchen
2016-09-23T00:00:00Z
The place was close to a lot of food options. It was clean and quiet. I would reccomend Douglas anytime.
Abbas
2016-04-09T00:00:00Z
Great place!
Mengling (John)
2016-05-07T00:00:00Z
We felt very welcome. The neighborhood was quiet and the house was as listed. There was easy parking too. We were really only there to sleep, the bed was comfortable. It was so clean and neat and the bathroom was close to our room. I would recommend this bnb and I would return also.
Janet
2016-05-09T00:00:00Z
This is a great house. I had an awsome experience. House was clean. The room was superb and smelled great! Five stars!!
Cecil
2016-06-13T00:00:00Z
Doug was very clear with directions. I was a last minute stay. Other people were staying in other rooms. Never met Doug but his roommate took care of everything. If you are looking for an early sleep, this is probably not the place. Rooms are right next to living room TV and people were going in and out of bathroom. Everyone was quiet around quiet hours 10 or 10:30. The bed was firm and it took me some time to fall asleep since I am used to squishy memory foam. Dog friendly. Very welcoming as far as that goes. Good area of town for privacy, I had my whole life in my car. Wasn't worried about lookers. It was right off the highway, good or bad depending on what your looking for. Good for me because I wanted to get on the road quick. Cute house, country style. Nice, clean bathroom and kitchen.
Anne
2016-09-08T00:00:00Z
Room Type
Private room
---
Property Type
House
---
Accommodates
2
---
Bedrooms
Minneapolis, MN, United States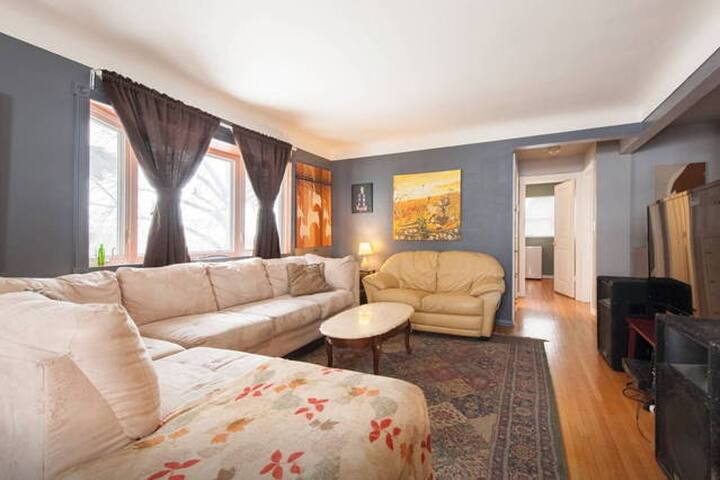 Perfect for couples, solo travellers, travellers with kids, and business persons. Friendly and Easy going neighborhood with quick access to highways, freeways and many walk-able amenities (grocery stores, restaurants and bars and gym.Parking is on the street. Uber is a popular way to get around. Bus / Train Transit is an option too.
My place is good for couples, solo adventurers, business travelers, and families (with kids). Queen bed is good for two to share. For instances of maximum guests limit, a blow up mattress is available. My space is clean and tidy. I got a big private backyard. You get to have access to the downstairs living space all to yourself. A TV is available, as well as Dart Board and some books to read. Laundry in the basement is free but limited to 1 load per week per person. I work from home but can be tied up from time to time but can assist you with your needs if I'm free and available. Very peaceful and quiet neighborhood. and Very friendly too. Bus stops within my block. Also, bus/train station is 6 min away. For more details, check the web by googling "bus or train options in fridley" or "metrotransit in fridley". I never used bus/train so I do not have more details on my own. My place is strategically located to all your possible needs. Fast food cafes/gym place/groceries are all within 2-10 minutes drive. Downtown is just about 15 minutes away and we are 3 minutes away from the major freeway (694)
Very peaceful and quiet neighborhood. and Very friendly too.
Lycel is very welcoming and accommodating. Their home was clean and comfortable. We had a great stay!
Abi
2016-10-07T00:00:00Z
A great space with a wonderful host that was responsive to communication.
Maria
2016-10-02T00:00:00Z
Lycel was very accommodating and the room was as described in the listing. The space is plain without much decoration or frills but it is very clean and spacious. A great place to stay if you just want something simple.
Ben
2016-09-05T00:00:00Z
This matches the description and is a very nice place to stay. Lycel will make you feel comfortable and is available if you need anything at all times.
Arianne
2016-11-25T00:00:00Z
Lycel was an excellent host, she kept up communication throughout the experience and made sure I was comfortable. The space was great for me, but the bedroom may feel barren for people who are used to a lot of furniture. Overall a very positive experience.
Sean
2016-09-02T00:00:00Z
A great place for your money. Peaceful neighborhood that's away from city noise but 10-15 minutes from downtown Minneapolis. You get a whole private entrance to enter and leave without interruption. Private bathroom Enough space for more than one person. Overall great experience and clean place. You'll get your money's worth I stayed here a whole week and loved it !
Kwadwo
2016-10-28T00:00:00Z
Room Type
Private room
---
Property Type
House
---
Accommodates
3
---
Bedrooms
Fridley, MN, United States
This home was created & designed to accommodate a large family with young children, multiple smaller families, or a group of friends! Come enjoy a relaxing getaway with beds for everyone, lots of play space, a giant playground, comfy furniture to relax on and a sunny porch to drink your morning cup of coffee! We have a one of a kind coffee bar stocked with coffee, a wide variety of teas, hot chocolates, as well as yummy extra ingredients to go into your custom drink! You'll love your stay here!
There is a family room with space for kids to play indoors, along with games, books and toys available to use. The backyard has a nice playground for kids. However the house is on a corner lot and there is not a fence around the yard. The playground is at the bottom of a hill away from the street. Perfect for big kids and great for supervised younger children. We also have a pack n play with fresh sheets on site and a chair w/tray for our littlest visitors.
This home was perfect for a weekend with friends! It fit all 10 of us comfortably and had everything that we needed for the weekend. Sarah was the perfect host and very flexible and helpful during the weekend. I would recommend this home to anyone!
Erica
2016-07-06T00:00:00Z
We had an excellent time at Sarah's home in Minneapolis and her family was a very accommodating host. Everything was very thoughtful and laid out for us including delicious coffee! She had a nice binder with lots of information on the house. She was very responsive when we had questions over text. It was very easy getting in and everything was incredibly organized. Thank you so much for you and your family's hospitality!
Kim
2016-06-28T00:00:00Z
Sarah was an amazing host. She had a welcome book available that laid out every detail you might need to know about the house and local attractions. The house was well organized, with no clutter, but also very kid friendly. The decor was pleasant and created a calm atmosphere. The neighborhood is very nice, and quiet we felt very safe our whole stay.
Brian
2016-06-19T00:00:00Z
We had a wonderful experience in this home. I feel like the fee was very reasonable to match all the amenities. Great place if you've got children.
Julie
2016-08-20T00:00:00Z
This was a great house that was very spacious and organized. Sarah was very communicative and proactive. Highly recommend!
Jeff
2016-07-20T00:00:00Z
We had an awesome time at Sarah's! I actually thought that the living space was even bigger than it looked in the pictures. It accommodated our big family perfectly! The kids especially loved the space in the basement with all of the toys! Our family also loves coffee and the coffee bar was an awesome perk! ;) we would definitely stay here again or gladly recommend it to others.
Elizabeth
2016-11-26T00:00:00Z
Sarah and her house were great! The house was very cute and Sarah did a great job as a host. We had a binder of information waiting for us and there were so many amenities. Sarah was very responsive to questions. Our stay was great!
April
2016-08-09T00:00:00Z
We absolutely loved our stay in this home! We have 2 young kids and they were both in heaven! The downstairs playroom was a huge hit, the outdoor play place was amazing and the rooms were ideal! Traveling with young ones is NOT easy and we said about 50x that this weekend would not have been possible without this house. Our three year old just kept saying how much she loved "the white house". Thank you so much for this amazing place. We felt at home and cared for. Thank you for the excellent communication and for the chance to have a wonderful weekend. We adored the home and will be booking again in the future. If you are thinking of booking... Don't think, just do it. You and your kids will love it!! Thank you thank you!!!
Ellie
2016-08-15T00:00:00Z
Room Type
Entire home/apt
---
Property Type
House
---
Accommodates
10
---
Bedrooms
Minneapolis, MN, United States
My place is close to family-friendly activities, nightlife, public transport, and the airport. You'll love my place because of the big backyard, the neighborhood, the comfy beds, and the kitchen. My place is good for couples, solo adventurers, business travelers, families, and big groups. Just a five minute Uber drive to NE and countless breweries. About 6 miles to Downtown Minneapolis, Target center, Vikings stadium, Guthrie, Target field, Stone arch bridge and many more downtown activities!
Great place in a location close to downtown! I would stay here again!
Reid
2017-01-01T00:00:00Z
Jenna is a fantastic host and communication was excellent! Everything stated in the description was spot on. Such a cute house in a quiet, convenient location to both Minneapolis and St.Paul. My family thoroughly enjoyed our stay.
Michele
2016-11-27T00:00:00Z
Room Type
Entire home/apt
---
Property Type
House
---
Accommodates
5
---
Bedrooms
Columbia Heights, MN, United States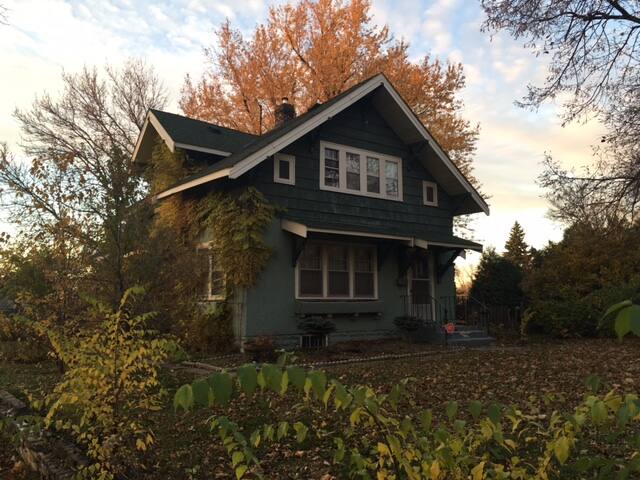 The room has a queen size bed, vanity, two closets, and a shared bathroom directly across the hall. Free WiFi access. Located close to Fridley downtown, Northtown Mall, Bus Station, 10 minutes away from Downtown & Uptown Minneapolis for easy access.
The bedroom is simple and clean and there is a shared kitchen and bathroom. Relax on the living room. Make a meal in the kitchen. It's easy to get around via transit, bike or drive. Plenty of on street parking too.
A great neighborhood with coffee shops and local eats nearby. Uptown, downtown, and Northtown Mall are all within a 10 minute drive.
Nice room, Vincent is very quick at replying to queries. Would recommend to anyone wanting to come and stay in the area.
Himanshu
2017-02-02T00:00:00Z
Vincent made all possible arrangement to receive me in his house. The house is located at Fridley a 30 minutes bus drive from Minneapolis, Minnesota. The listing of the house description was accurate. The neighborhood is safe. The location is easily reached by bus.
Victor
2016-08-25T00:00:00Z
Vincent was a great host. Though I didn't get to meet him, he communicated clearly with me, answered all my questions and the room looks exactly like the picture. The neighborhood was pretty normal, I didn't feel any concerns about that, and it was a convenient drive to Minneapolis. Thank you Vincent for a nice stay.
Kevin
2016-08-22T00:00:00Z
Vincent was very nice and welcoming. Super helpful with transportation advice to get to and from work. The room was SUPER clean and well maintained. The house is on the outskirts of Minneapolis, so make the location is what you are looking for. However, for the price... It's not that far. Safe travels!
Jason
2016-05-13T00:00:00Z
Very nice place for slow pace traveler or people who are looking for temperate housing.
Zhen
2017-01-24T00:00:00Z
My host made sure to understand who I was before accepting. He was flexible when coordinating the meet up for keys. The space provided was everything expected. The bed was extrodinarly comfortable. If I needed an anwser, he responded promptly and was clear. For a quiet reasonably priced spot on university, I would recommend this place to anyone.
William
2016-05-07T00:00:00Z
Stayed 9 days. Vincent was a great host. Thank You.
Hoang
2016-05-21T00:00:00Z
Room Type
Private room
---
Property Type
House
---
Accommodates
2
---
Bedrooms
Fridley, MN, United States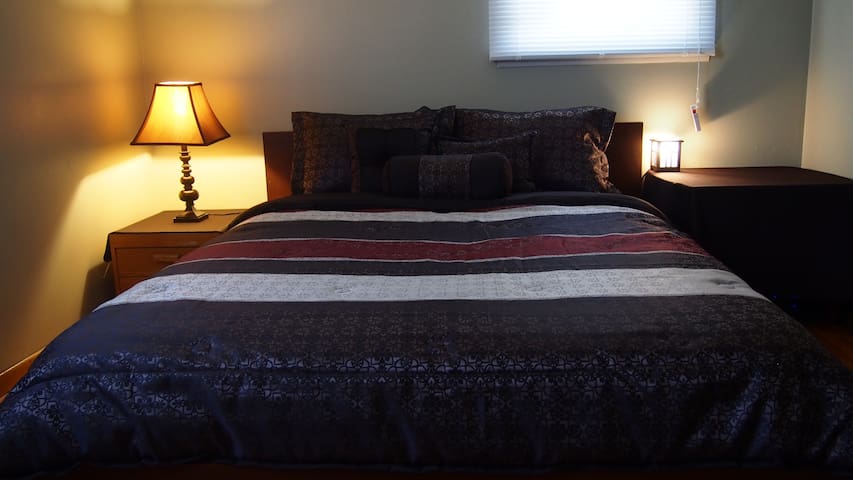 Quiet 1-floor house with modern updates, garage parking, and dog-friendly. Easy highway or bus access to both downtown Minneapolis and St. Paul. Dishwasher, Laundry in basement, one bathroom, fast WiFi. One bedroom doubles as an office. Large park across the street for walks and scenery.
Modern decor and updates, dog-friendly, fast WiFi, home office, garage parking
Steps away from NE Minneapolis restaurants, bars, clubs etc. Large quiet park across the street.
The space was exactly as listed on airbnb. We were lucky to have two rooms so there was plenty of space. It was nice that our dog could enjoy himself at Jamil's home and even play with his cute pup Nena. The location was great, right up the street from Silver Lake to take a dip. The space itself was clean but also empty as Jamil was moving. We enjoyed our stay!
Bianca
2015-08-17T00:00:00Z
The guy (Jamil) was really nice and we had a really great time. And Jamil helped us to relax well. Also so his house was really nice too!
Jeoung Hak
2015-08-14T00:00:00Z
I stayed for just one night while in a wedding at Silverwood Park. It was a great location and Jamil was a friendly and gracious host. He was flexible with check in/check out and helped me out with directions. I highly recommend a stay here!
Jamie
2015-06-06T00:00:00Z
Great place, Jamil was there when we arrived and was very friendly. Gave us all the information on were everything was located. Great experience, will stay again!
Gilbert
2015-07-26T00:00:00Z
Overall experience here was quite positive. En route to California I made a last minute decision to spend the night in Minnesota. Jamil responded to my inquiry within 20 minutes. I was out late and had to leave early in the morning so I only saw Jamil for about 10 minutes when I first arrived, but he was hospitable and answered my questions. The room was comfortable and he lives on a quiet street so there wasn't too much noise. Met his cute dog on the way out. I definitely recommend this place and would stay here again without hesitation.
Samuel
2015-08-08T00:00:00Z
Jamil was home to meet us and our dogs when we arrived. The listing is as presented, clean and comfortable. Nice quiet neighborhood with great walking trails nearby. Clean sheets, towels, and toiletries were provided.
Jessica
2015-07-25T00:00:00Z
Our stay with Jamil was fantastic. He was extremely courteous and respectful during our time there and was an excellent host. We enjoyed our stay there immensely. the description of the place was exactly as it appeared in real life. It made our stay there very enjoyable. I would recommend him to anyone.
Stephen
2015-07-16T00:00:00Z
Jamil's place was the perfect home base for our trip. Jamil made himself somewhat invisible during our stay -- appearing just a few times to make sure we had the wifi password and that my father had a reading lamp for the evening (very thoughtful). The location was perfectly central for our plans (west bank, downtown, shoreview, arden hills, etc.); every place on our calendar was less than 15 minutes away. Parking was convenient -- and we were even able to accommodate a wheelchair into his home for dinner. We would happily stay there again if we travel to Mpls. with my father again, requiring the accessible accommodations.
Timothy
2015-08-02T00:00:00Z
Room Type
Private room
---
Property Type
House
---
Accommodates
4
---
Bedrooms
Minneapolis, MN, United States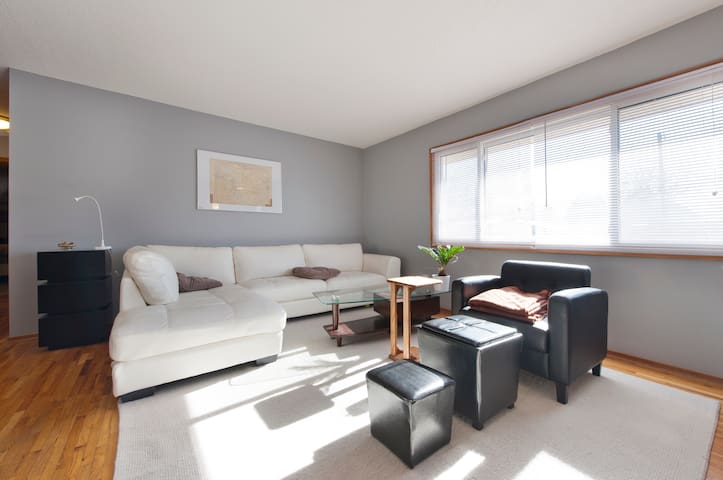 A brand new remodeled bedroom for a Confort resting for your resting time awaits for you
It makes unique because the area and the love that has being putt into all the work I have done in my house by myself
It's nice, clean and quiet neighborhood
Wuinfred is definitely one of the nicest people you'll ever come across. And the house, too, is one of the most beautiful, well-maintained, clean, and amenities-loaded (if that's a word) I've lived at. The neighborhood is nice and safe. It is a little away from the city center, but close to the highway. Wuinfred is very welcoming and cares for the guest a great deal. I did an 11th hour reservation, and he was kind enough to accept. He had a party on the night I checked in, and he was SUPER careful about my comfort and made sure I wasn't disturbed - thank you for that, Wuinfred! Great bedroom, kitchen, laundry, bathroom, everything. Bed was very comfortable, too. Nice long driveway. This now is my number one choice in/around Mpls!
Safwan
2016-10-12T00:00:00Z
Wuinfred has a very nice place. It's very clean, hospitable, and it has great modern architecture and appealing interior design. Wuinfred is cool to. He was nice enough to invite me into stimulating conversations, and food and drink on occasion.
Patrick
2016-10-02T00:00:00Z
Wuinfred is the man. Simple as that. My first time using airbnb and i thought it might be awkward but he made me feel like family right away. D Just a down to earth, caring, generous dude. If you're looking for somewhere to stay near the twin cities this is the place!
Mike
2016-10-27T00:00:00Z
Exceptionally clean, warm hospitality.
Todd
2017-03-02T00:00:00Z
Room Type
Private room
---
Property Type
House
---
Accommodates
2
---
Bedrooms
Coon Rapids, MN, United States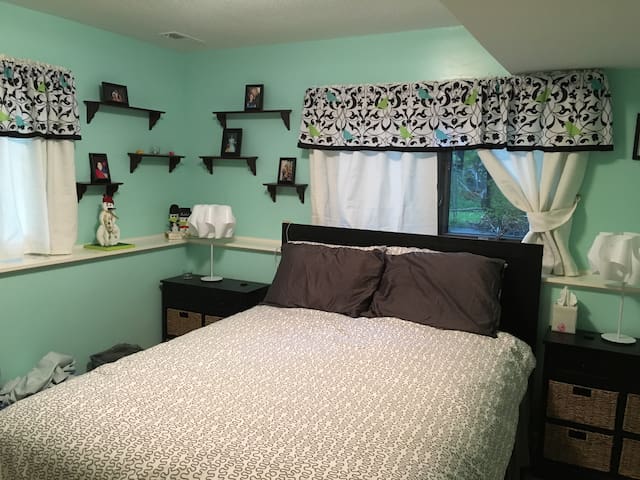 1

–

18

of

37 Home Rentals
Enter dates to see full pricing. Additional fees apply. Taxes may be added.