The house has unique look and compact, it has enough capacity for family and group up to 8 guests. Less than 1 minute to the ocean by walk. You can find and catch small crabs, hermit crab, fish and small marine lifes. You can enjoy Japanese style BBQ in front of the house with 180 panorama ocean view. If you go North, there is Hitachi seaside Park,Costco & Ajigaura beach. If you go South, you will reach Fish market, Aquarium, Oarai beach in 10 minutes or so.
What guests are saying:
"It is a very fashionable room, new and clean, with everything you need, and a resort feeling right in front of the sea. I could see the sunrise on the sea and it was a wonderful memory. If I dare to say the difficult thing, the BBQ fee is a separate fee, and that fee was not written."
Our house was renovated recently. 13 - 15 mins to Oarai station by walk. We also have several bicycles for visitors. You can use them for free. Since we don't live in this house currently, you can use entire home, and all rooms in the house. Please ask us about the price and room available, if you are interested. Also please let me know if you need other amenities / services which were not listed, we would like to meet your request. Thank you!
What guests are saying:
"Very good landlord. If you can speak Japanese, you can communicate well with the landlord. The location of the homestay is superb, and it is very convenient for self-driving tour. The homestay is also full of furniture, the kitchen has an induction cooker and a microwave oven integrated machine. The bathroom is large and the toiletries are well prepared."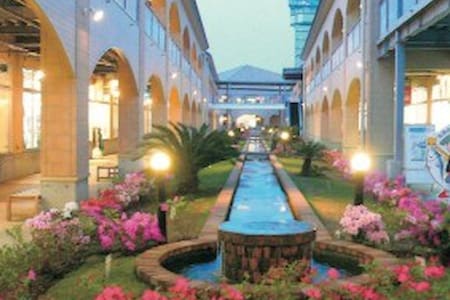 SUPERHOST
Entire house · 16+ guests · 13 beds · 1 bath
guesthouseOHANA!一軒家貸切!セルフチェックイン!団体様ファミリー様向き!海浜公園近く
This is a private house. Please use only 1F and 2F spaces! (Please do not go up on the 3rd floor!) There are 6 parking spaces available! There are 2 showers in the washing area! 1F toilets are men's toilets, women's toilets, Washroom (2 washbasins) 2F toilet has 1 toilet, sink, mini kitchen There are ping-pong tables and children's balls and blocks in the 2nd floor playroom! * Since the number of guests has been deceived and damaged frequently, security cameras have been installed unwillingly. (1 unit at the entrance) In some cases, the security camera may check the number of people. In the unlikely event that it is misled, you may be billed for the shortage at a later date. ★ Please do not enter or leave except for hotel reservations. 5.6km to Kaihin Park (9 minutes by car) 6.3km to Costco (11 minutes by car) Joyfull Honda, 6.9km to fashion cruise (13 minutes by car) 7.8km to Oarai Aquarium (18 minutes by car) 6.7km to Mentai Park Oarai (16 minutes by car) 2.1 km to Hiraiso Beach (6 minutes by car) * BBQ not possible
What guests are saying:
"I wanted to spend a large number of people in one space, so this is a unique existence. Every time I answered the question immediately, the room was spacious and clean, and a friend who went with me made a request as soon as possible again next year. If we don't have the facilities here, we can't travel."