Maringotka (caravan) Alfons has got a great history. At first, maringotka had travelled a hundreds kilometers with Berousek's circus, where its aim was to be a "home on the wheels" and few years after that it became unfashionable and was parked for some more time. Despite the bad time, it quickly had found its new owner and a lot of admirers in a year 2015, when it was given as a birthday present. Nowadays, marignotka is a beautiful caravan in countryside with great view on Lipnice castle.
What guests are saying:
"Beautiful place and the whole caravan. Everything was perfect during our five days - a view from the doorstep that is unobtrusive, a comfortable bed and warm duvet, extra blankets, a nice garden, a fireplace and a supply of wood, simple, tasteful and functional equipment for two adults and a small son. Thank you very much!"
Nabízíme netradiční kruhový slaměný domek s velkou zahradou a rybníčkem. Domek se nachází v malebném koutu Vysočiny,na kraji malé vesnice Bystrá. V okolí je plno zajímavých a příjemných věcí,hrad Lipnice nad Sázavou ,lomy,lesy ,louky,řeky a rybníky, tomu všemu kraluje bájný Melechov. Domek je malý, skromně zařízený,pohodlný pro dvě osoby. Voda ze studánky,koupelna pod širým nebem.Ocení romantici a milovníci starých časů.
What guests are saying:
"This cabin is lovely, and cozy, and perfect to relax as it's surrounded by nature and there's a lot of quiet. It was very cold when we arrived but the fireplace made it warm up fast. There's light and electricity but no running water, which is not an issue, but good to know beforehand. The toilet and the bathroom are in separate constructions. You have to work up a bit if you want warm water to shower, which is an experience itself. All in all, I'm happy we chose this place and I'd repeat the experience :)"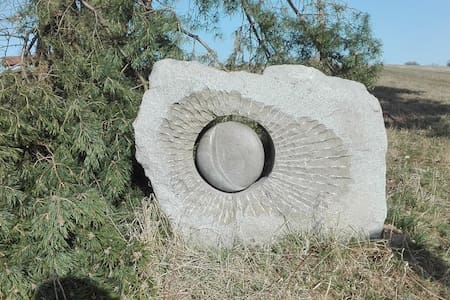 SUPERHOST
Entire apartment · 4 guests · 4 beds · 1.5 baths
Útulný malý byt na Vysočině v Ledči nad Sázavou
Náš malý, ale útulný byt má dvě místnosti. V jedné místnosti je pohodlná palanda, stůl a skříně. V druhé místnosti jsou dvě lůžka, knihovna a stůl. Uprostřed je vybavená kuchyň, kde si můžete uvařit a posedět u půlkulatého stolu. Výhled z kuchyně je na dětské hřiště. V koupelně je vana a k dispozici je i pračka. Byt je v prvním patře. V těsné blízkosti můžete zaparkovat své auto. Prostředí malého města, kde najdete obchody a restaurace si zamilujete.
What guests are saying:
"Greatly prepared apartment, perfect communication, nothing was a problem. We would like to repeat it. I recommend to all the Jaroslav Foglar Museum in the local castle."