My cozy little Glamping Nook is right on Lake Erie and is a huge step up from camping but still a rustic and simple experience. Keep cozy by the wood stove, gather a book from the ceiling high bookshelves, or bust out one of the board games you loved to play as a kid. I've got a plethora of nostalgic video games & movies for indoor days. Outside you can take in the sunset or sit & bond around a campfire. You're in for an experience here.
What guests are saying:
"This is our second year at The glamping nook, and it was just as magical. My girl and I were here to celebrate our third anniversary, and also for me to propose! Laura's space was the perfect romantic setting. So infront of the wood stove I asked and she said YES! Laura was incredibly accommodating and wanting to help make it perfect. She let us check out late, have secret photographers, and made sure the stereo was going. Thanks laura!!"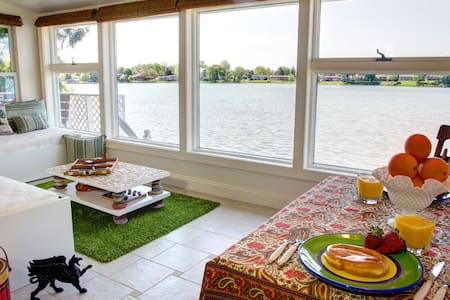 SUPERHOST
Entire cottage · 5 guests · 3 beds · 1 bath
Hot Tub Lake Fireplace Boats BBQ Kitchen Fire Pit
The Guesthouse on Schoolhouse Lake has been in my family 1926. A great work & play space. A Sleep Number Bed or an incline bed w/a great lake view. Therapeutic saltwater hot tub, OPEN 24/7/365. Create a meal for 2 or BBQ with friends. Explore the lakes in kayaks, pedal boat or paddle board. We're 5 miles from DTE Music, Great Lakes Crossing, Clarkston, Pine Knob Ski Resort. Close by are Somerset Mall, M1 Concourse, Pontiac, Rochester & Chrysler TC & Tier-1 suppliers. A 55 mins drive to DETROIT.
What guests are saying:
"From the moment I walked in my jaw was on the floor. We were greeted by the beautiful lake through the giant windows and upbeat throw back music. My partner and I did a little dance while we put down our bags and it was honestly magical. I don't remember the last time we busted a move like that. We explored the house and it was like being a little kid again. The little loft stole our attention and we were delighted by the singing bowl and the cushion set up, we both felt like it was a perfect spot to meditate. We were pleasantly surprised by the amount of kitchen supplies, there was literally everything you could possibly need in the kitchen and fridge. The whole space was incredibly clean and that was very important for me because I'm a clean freak. The jacuzzi was PERFECT. There were shades for privacy and the view was incredible. Oh and the bed? SO COMFORTABLE!! I've never been on a sleep number bed, and I am now very interested in getting one for myself. This trip was perfect. I was a little concerned about being so close to the road, but I didn't hear much traffic at all. The noise machine next to the bed was a great touch. I am super impressed with this place and all the little touches from Lori (chocolate on the pillows, checking in, she even brought us fresh robes!) were nothing short of excellent. Thank you Lori!!!!"
Tiny, cozy, rustic treehouse at the end of a rugged one-kilometre footpath: sleeping platform and woodstove inside; porch and hammock outside. Campfire pit with tripod grill on the riverbank. Appeals to leave-no-trace hikers/canoeists who look for time off the grid, who understand how to function sustainably and respectfully there, and enjoy being self-sufficient and resilient. Pricing: Weekend and holiday rates are higher than weekday.
What guests are saying:
"A wonderful getaway. Everything was as described. Sleeping bag was a great suggestion for winter guests. Lawrene was fantastic in responding to us and making us feel welcomed. She was super accommodating to reschedule our trip last minute when the initial date showed a forecast of heavy rain and flooding. She even ensured that we weren't charged for the new rate. Now that we have experienced the winter wonderland, we are very much looking forward to a summer time experience! Things we would do differently when we return: make sure our dog has conquered his fear for bridge and steep stairs lol would pack lighter so less trips carrying things back/forth to the car (about 1km per description) - and more time to enjoy the beautiful scenery! Love the riverbank right next to the treehouse. The treehouse was small but nice and cozy for two. Bandaids, books, games, tea/instant coffee and extra tap water for emergency was a thoughtful touch. You will be completely off grid and not see a single soul during the stay - it's fantastic. Thank you, Lawrene and Harry. - Rebecca and David"