This 5 stars apartment is in Patong Tower, it's just renovated and everything is new ,with big kitchen to and nice dining area Patong Tower is the tallest building in Patong and you can see it from every place in Patong It is also only 100 meter to the beach and 5 min walk to the big shopping center in Patong and only 4 min to Bangla street so you not need taxi, everything is close to Patong Tower it also have Smart tv And from one of the balcony you can see the beach
What guests are saying:
"This is a great unit in Patong Tower. It is up to date and has every amenity you want. It's very cozy yet spacious. The balconies provide great views and the large open windows allow you to take advantage of any great breezes throughout the day and night. It is close to all night life, bars and restaurants on Bangla road and in the vicinity. You are just a 2-3min walk to the beach. Again, very convenient location. Lars is also a great host as he is very responsive and checked in with us proactively. I definitely recommend this property and will be reserving it again."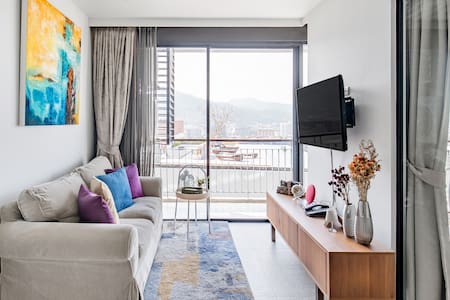 PLUS
Entire apartment · 2 guests · 1 bed · 1 bath
Endless Patong Ocean View from a Hilltop Condominium, Phuket
Drink in mesmerizing azure expanses of sea, sky, and city from every corner of a glass-walled home. Light dances off a sparkling white palette with cheerful pops of color. Shared amenities include a rooftop infinity pool, gym, and 2nd-floor garden. The property is on hillside. The slope and practical representation of it is 14% slope for 160 meters. Walking up and down are made much easier with wide gradual steps of the sidewalk.
What guests are saying:
"This place is even more beautiful then the pictures. It's one of the nicer places we've ever stayed in. The deck and the rooftop infinity pool are gorgeous. It's decorated beautifully. She was so thorough when creating this air bnb. She made a book of things to do, where to eat, story of herself, etc. As well as a cook book with good recipes book marked. It was a nice touch. And yes, everyone's mentioned the stairs/hill. It is very steep and a good workout. My boyfriend counted, it's something like 150 steps. If you're out of shape, older, or knee/ankle problems it's not the place for you. We enjoyed it. We eat super healthy at home so it's nice to hike off a little of the carbs we're eating out here. One other tiny note, the bed is def more on the firm side. Normally I'd dock a point for that but it seems to be a theme here in Southeast Asia. I'm beginning to think they just like firm beds. Shower was great, plenty of hot water. (Those are the two things i look for, bed and shower heat, so i like to throw that in there). Walk ability is great, we walked everywhere. The only time we got a tuk tuk was to the patong boxing stadium and that was because we were short on time. We might have walked if we had more time. Overall it was fantastic and I'd stay here every time i come back."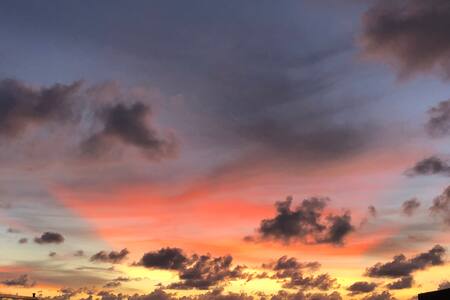 SUPERHOST
Entire apartment · 2 guests · 1 bed · 1 bath
网红温馨房源!中文房东芭东最好的位置,无边泳池的豪华公寓浴缸房步行至芭东海滩酒吧街24小时安保
If the listing you see is full, you can click on my avatar to view other listings! Pick up once every five nights! !! * 45 square meters one room and one living room * 1.8m * 2.3m bed * Spacious private balcony * Free Wi-Fi & Cable TV * Bath & Shower * Refrigerator & Air Conditioner * Sun loungers & elevators * Double pool & gym * 24 hours security & free parking * 800 meters from Patong Beach * 1200 meters from Bar Street and Jiangxi Cold Shopping Mall * Queen bed can sleep three persons * Extra bed requires an additional charge of 80. Our comfortable one-bedroom and one-room apartment is located in the most luxurious community in Patong. The rooms are fully equipped. The kitchen has rice cookers, kettles, pots, induction cookers, spit drivers, microwaves, refrigerators and dishes. The living room is equipped with a flat-screen TV with links to international channels. There are two swimming pools in the area, one of which is 50 meters long on the first floor of the community and has a shallow water area dedicated to children. The other is the infinity pool on the rooftop, where you can enjoy the amazing sunset sea view. Whether it is to enjoy the tropical sun on the sun loungers in the community at sunset, or just to enjoy the starry sky at night, it is very relaxing. This is the best way to take a vacation. One step away is the noisy fireworks on the earth. Returning to the neighborhood is a warm and quiet privacy.