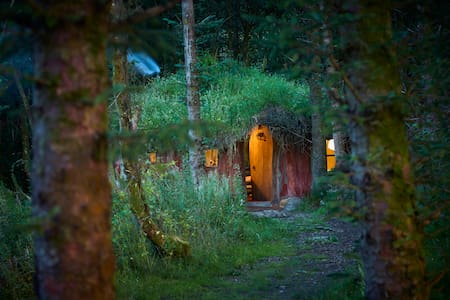 SUPERHOST
Earth house · 5 guests · 3 beds · Half-bath
Beautiful Woodland Roundhouse/Fairy/Hobbit house
Beautiful Woodland hobbit/fairy/witch house Nestled away in our woodland is our new roundhouse. Built from natural materials, nearly all from the woodland around it and super insulated with gas hob, wood burner and running water. Come hideaway, hibernate, nestle and nuzzle.. tend fires, read, swim in our lake, pick salad and eggs from the farm... This cabin offers the perfect place to step into a different pace, to be at one with nature, to slow down and think about what matters in the world.
What guests are saying:
"So, at first I didn't want to even write a review. Only because I kinda want to keep this place all to my self. I 100% recommend this trip to anyone that has an outdoorsy bone in their body. I planned this trip for my wife, my 1 month old baby and my doggy only 12 hours before we left. This farm is pure magic and the energy there is unmatched, the roundhouse was perfect and has everything you could ever want (just be sure to bring some boots). The furnace was warm, having a gas hob made cooking a breeze, and there's a sink with running water (only cold water, but no complaints there) which made doing dishes so easy, they had more than enough blankets and the scenery is unbelievable. 3 days just wasn't enough. I highly recommend this place to anyone looking for a bit of nature and miss the uninterrupted sound of birds singing. If I could give them 6/5 stars I would. Much love."
Mawddach Cabin situated above the famous Mawddach estuary in the Snowdonia National Park. Hot tub with breath taking views and access to a private beach Pets allowed Very private and only 3-4mile drive from seaside town Barmouth Hot tub will be situated on a balcony overlooking the sea
What guests are saying:
"What a great experience! First time we had stayed in a pod. It was really cosy and with the radiator on it didn't feel like a log cabin at all! It was fun cooking on a gas stove and when I daftly thought we had run out of gas, Ali very sweetly directed me to "look under the sink" and there were plenty more. Her husband even came and brought us more! We were well looked after and very cosy. The hot tub was an absolute treat! Never felt so relaxed in my life. Sadly couldn't use it the next day as the winds were pretty strong but we expected that in March. For dog owners, it's worth bearing in mind that the sheep roam freely so keep the dog on a lead. We had no problems at all but just thought it might be good to know. Thank you for a brilliant experience!"
Our secluded cabin is surrounded by ancient oak tree forest and all the wildlife that comes with it. It is so peaceful that you will only hear the river and the birds. Set in 10 acres of our own land for you to explore and easy access to Snowdonia public foothpaths, it is perfect for those looking to spend some time in nature. The cabin itself features private hot tub, wet room, underfloor heating, large deck with bbq, kingsize bed, kitchen, living and dining area and a private cinema.
What guests are saying:
"Mark and Lindsay are lovely hosts and great at communicating, very helpful. This is the best air bnb I've stayed at! Even staying during the storm we had a lovely time. The cabin is beautiful, and the hot tub and surrounding area is amazing. We found a few treats left for us, and Mark and Lindsay were really quick at responding to any questions, never seeming like we were hassling them. I would highly recommend this as a place to stay. We managed a few hours walking despite the stormy weather (storm Ciara) and the area is really nice. Being in an ancient oak woodland in a hot tub even in bad weather and being able to cosy up with a home cinema screen (blue ray collection is great), is awesome. Highly recommend 'Us' if you like to be a bit scared. No complaints at all."