Beautifully situated with amazing view of Oysterhaven Bay and countryside. This apartment can comfortably accommodate 4 guests, designed with an open plan kitchen, lounge, dining area and balcony this apartment has a great sense of space and comfort.
Peaceful surroundings in a beautiful rural coastal environment just 10 minutes drive from Kinsale, 20 minutes drive from Cork Airport, a wonderful space to relax and a great base to explore West Cork.
Lovely accommodation in very tranquil settings. House very nice! Would return again!
Simon
2016-02-22T00:00:00Z
This is a perfect apartment for a relaxing long-term stay. I stayed here with 2 other people for 5 days, but we could have comfortably lived here for weeks. It's lovely and bright, clean, practical and in a beautiful setting (you need a car to get around) and Sinead is a fantastic host. If you come here you must have a coffee or lunch at the courtyard cafe across the road.. it's gorgeous. Thank you Sinead!
Amelia
2016-06-28T00:00:00Z
Beautiful place !!! a cozy house with everything you need . Perfect place to be with family enjoying the various nautical activities on offer and setting, very close to the beautiful town of Kinsale site .
Javier
2015-08-18T00:00:00Z
Sinead made a very conscious effort to support our arrival after reception hours; she was easily accessible through (SENSITIVE CONTENTS HIDDEN) and introduced herself the day after; she was very helpful in answering questions. I have the say that the pictures very accurately reflect the apartment; our view was lovely, and we made great use of it for breakfast and just general relaxation (had a rough day before arriving). We got a little lost on the way there (Sinead shared GPS coordinates, but not an address: apparently our GPS was too dumb to handle that), but there was plenty of parking space left. The larger bedroom had a more comfortable mattress. Black out curtains for every window (but don't use it unless you have to; the light in the apartment is honestly the best part. So gorgeous!). Hot water worked well. Only "complaint" (and I say this without it actually impacting our experience) was okay-ish wifi (couldn't stream, but TV available and we watched the Euro games; strong enough for email and text and (SENSITIVE CONTENTS HIDDEN) for sure) and doors didn't lock. That being said, one of our favorite Airbnb experiences to date. It's clean, the washer/dryer is fantastic, and you get a great view. If you're in the Kinsale area with a car, I'd recommend this over staying in town--grabbing a bottle of wine and enjoying the balcony will be a highlight of your stay. Only a 17-minute drive from Kinsale. No regrets here!
Natali
2016-06-17T00:00:00Z
We were made very welcome,the apartment was clean and spacious and the view and was beautiful. Enjoyed being near the activity centre and trying out paddle boarding. Really lovely holiday!
Deborah
2016-08-10T00:00:00Z
Fab little apartment with a wonderful view. Was brilliant to have a washing machine for our 10month old. We spent most of our time going for little walks, eating at the cafe across the road (which is lovely) and sitting on the balcony reading.
Naomi
2016-07-26T00:00:00Z
Sinead and her aquatic staff made us feel right at home in our Oysterhaven accommodation. We loved walking over to the little restaurant at the old English Hunting Lodge across the street. We finished each walk with some quiet time on the estate lawn that overlooks the harbor and the children in the boating classes. What a wonderful time they were having in those classes.
Johannah
2015-08-16T00:00:00Z
5star
Jack
2016-11-30T00:00:00Z
Room Type
Entire home/apt
---
Property Type
Apartment
---
Accommodates
4
---
Bedrooms
Kinsale, Cork, Ireland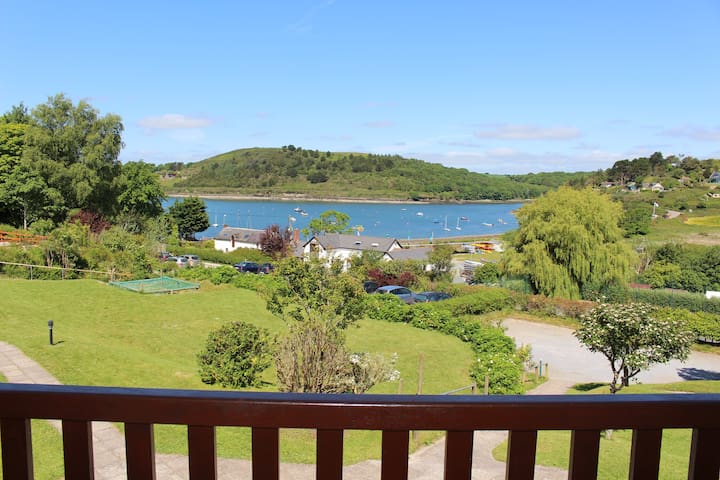 Fernridge is a new apartment ideally located in a country setting just 3 miles of the popular picturesque town of Kinsale. So if it's a quiet break, or a more active holiday you are looking for, this apartment and location should suit your needs.
It is a non-smoking, first floor, one double bed apartment. There is also a double sofa bed in the living area which gives the apartment the ability to accommodate up to three adults. There is wooden flooring throughout and it is cosy, well-aired and heated throughout the year. The kitchen comes fully fitted with cooker, fridge freezer and microwave. There Is a TV, DVD Player and a selection of DVDs. Also included is a washing machine/dryer, an iron and ironing board. Outdoors there are lawned gardens, sitting areas and ample parking space. Bed Linen & Towels included. Welcome Pack Hairdryer Electricity included. Heating extra - payable by coin meter. There is a choice of numerous beaches within easy driving distance of Fernridge. All are perfect for water-based activities. Golfers will be delighted with a choice of two courses within easy reach, Farrangalway and the world famous championship golf links - Old Head of Kinsale. Beautiful Kinsale, known world-wide as the gourmet capital of Ireland, is only 3 miles away. It is a fishing town which has an abundance of shops, galleries, great restaurants and pubs with lots of live music. Visit Charles Fort and Desmond Castle or take a guided walking tour, in the summer season, through the Georgian cobbled streets with brightly painted cottages and flowering window boxes. Scenic harbour cruises are available daily on the "Spirit of Kinsale". Cork City: is only 20 minutes away with its fine shopping streets and its many tourist attractions such as Cork City Gaol, Shandon, Butter Exchange Market and The English Market. Other attractions: Blarney: 40 minutes to Blarney Castle and Woollen Mills. Fota Wildlife Park: 25 minutes. Cobh: 30 minutes to the Cathedral, Famine Trail and the Queenstown Story. Midleton: 35 minutes to the Jameson Heritage Centre. Clonakilty: 40 minutes to the Model Train Village, Inchidoney Beach. Killarney: 75 minutes to the Lakes, Muckross and the Gap of Dunloe. The Apartment is located alongside owner's own home. A car is adviseable but not essential. There is an hourly bus service available from the village (10 minutes walk) to both Kinsale and Cork City. Minimum 3 night stay. Reduced rates for 7 or more nights.
Seeing Kinsale while staying in Mary's BandB was fantastic. The rooms are just as described. The space was meticulously clean. Mary was a great host, making us feel at home. Thanks Mary!
David
2015-05-09T00:00:00Z
Mary was a wonderful host and the apartment was just lovely. In a gorgeous location looking out over beautiful rolling hills. The apartment was top notch, all mod cons. Really lovely area around with lots to do and see. Fab restaurants nearby and great night life. Also great to have a selection of movies to watch for the nights in! Would recommend this apartment to anyone.
Eimear
2015-01-03T00:00:00Z
Mary provided perfect directions and graciously met me upon my arrival. She showed me the apartment, how everything worked and the starter food left for me. The food included bananas, apples, bread, snacks, butter, jam, etc. It was very thoughtful and welcome. The kitchen and dining area included all amenities and were immaculate. The sitting room featured a large sofa, large tv and WiFi connection so I could use my laptop and smart phone. The bedroom was large with a double very comfortable bed. The bathroom had the best shower design and there were plenty of towels and amenities. This was the perfect place.
Michael
2016-05-28T00:00:00Z
Mary was an excellent host with great ideas for filling in our days. Her apartment was very sunny, quiet and relaxing. A wonderful place to do day trips from.
Wendy
2016-07-04T00:00:00Z
Mary and her family were very nice hosts and always there when we needed help or had questions. The apartment was a dream. It had a seperate entrance with a bedroom, bathroom and a living-room with a kitchen. Mary placed some fruits, butter, jam, mik and bread for us which was awseome. The view from the apartment was marvellous as was the landscape around. To Kinsale it took five minutes by car, to Cork about 15 minutes. But there is also a bus not far away. We had a really great time at Marys house and can only recommend it! Sven & Jasmin
Sven
2016-09-11T00:00:00Z
Mary was an absolutely lovely host. She left us some scones, fruit and milk when we first arrived. She also took the time to go over a map of the area and give us some ideas of additional things to do (we had only researched Cork, but loved Kinsale as suggested!). One day the weather was absolutely oppressive so we stayed in and the apartment was actually cheery with all the skylights :D The kitchen had everything we needed for cooking and just enjoying the afternoon so we still had a great day despite the torrential rain. The wifi was a little slow, but who goes to Ireland for wifi anyways! It was sufficient enough to acquire what I needed. Oh and the heat being coin operated was strange for me, but it really was quite easy to use and worked well. Would stay here again in a heartbeat.
Vanessa
2016-04-13T00:00:00Z
We loved staying at Mary's place. The apartment was perfect for our needs; clean, well equipped and cosy. Mary was an amazing host, she had left us some supplies for arrival and went above and beyond when she looked up directions for us. We will definitely be back if we are down in Kinsale again!
Andy and Claire
2017-03-27T00:00:00Z
Mary was a super incredible host! Warm and welcoming, she accommodated our different arrival time and left us a welcome pack of food and milk. When she got home we sat together and had a cup of coffee. :-) The flat was lovely and just as described – spacious and light with great facilities, it was the perfect base for our adventures. The local area was peaceful and it was really easy to get the bus to nearby Kinsale. We could not have been happier with our wonderful stay in Belgooly!
Colin
2016-05-17T00:00:00Z
Room Type
Entire home/apt
---
Property Type
Apartment
---
Accommodates
2
---
Bedrooms
Kinsale, Cork, Ireland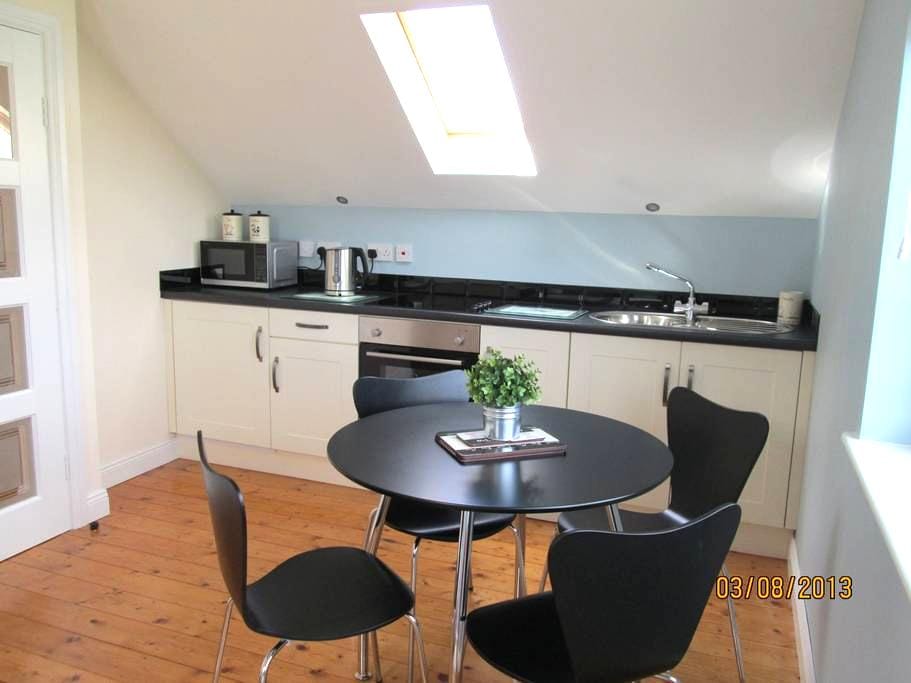 Beautiful, charming 200yr old farmhouse 10 mins drive to fishing town of Kinsale Top quality beds & bedding-feather/goose down duvets & pillows Eclectic style with a cosy feel and open fire in living room There are 4 beautiful double rooms, all of which can be twin with advance notice-great for groups of 8 Breakfast each morning consists of tea/coffee, juice, home-made granola, organic yoghurt & fresh fruit salad, home-made bread, jams and a daily hot dish served family style. See reviews!
We are always available to answer questions and help in any way we can.
Louise was a great host. We would definitely visit Santane House again. She was very welcoming. The house was exactly as it was depicted on the site. The bedrooms were nicely decorated, beds were very comfortable with new bed linens. Louise prepared wonderful Irish breakfasts each of our two mornings with all of the fixings including homemade Irish soda bread, fresh eggs, rashers, sausage, and fresh fruit and juices. The Santane House is about 15 minutes from the beautiful city of Kinsale where you will find great restaurants, pubs, and local charm. I would highly recommend a visit to Santane House. Our family of 8 thoroughly enjoyed our experience with Louise. Karen
Karen
2016-07-11T00:00:00Z
This place is fully sorted in the best way. The accommodations were terrific, as was Louise. Breakfast was delicious, the bedrooms were cozy and comfortable and the house and living areas were totally accommodating. Louise was a friendly and great host who clued us into things to do in the area and in Dublin - 2 1/2 hours north. Go for a walk from here towards Oysterhaven. Quiet and spectacular. So, two thumbs up, top recommendation.
Philip
2016-07-26T00:00:00Z
The experience was overall great. Louise was a fantastic host and very helpful. The house is a 2 story building, so the elderly members of our group found the stairs a little difficult, but the great breakfast made the climb more bearable.
James
2016-08-05T00:00:00Z
A large group of us took Santana house for a full week to explore the region. It's a great base with ease of access to west and east Cork. We loved the variety of beaches within a very short drive. Rocky bay, Oysterhaven and Nohoval Cove were our favourites. Finders Inn which has fantastic food and a warm fire lit welcome is only a couple of miles away. The house has comfortable beds, great showers and a nicely appointed open fire. As we were 5 adults and 3 children, we missed not having a telly on the property but as Louise had informed us in advance and it's Noted on the listing, we brought our own tv. Louise was friendly and informative and provided a list of local restaurants which included the Black Pig - one of our favourite meals. If you get a chance the farmers market in Kinsale on Weds ( seasonal) is worth a look, especially the salad man! The house is rural and a good 12-15 min drive from Kinsale so ideal if you want that type of rural, getaway from it all feeling. Other places I recommend to visit are Clonakilty ( eat at Scannells), Timoleague ( The abbey is worth a visit) and Cobh! As well you are very close to Cork for the Crawford Art Gallery and the English Market.
Catherine
2016-10-23T00:00:00Z
What a hidden gem! There were 6 of us staying with Louise...3 couples. Comfy king size beds were offered for all and a great living/dining space to meet and hang out each morning and evening. The bedding was 5 star hotel quality with big, fluffy, white down comforters. So cozy. And the breakfast Louise prepares...oh my! Divine. A gorgeous fruit salad with fresh honeydew melon, kiwi, grapes, fragrant mint...followed by a delicious homemade muesli and chilled yogurt. And as if that wasn't enough..out came traditional Irish sausage, ham, sunny-side up eggs, grilled tomato, sautéed mushrooms and homemade Irish soda bread. The Irish sausage was the best we'd ever had. We all ooh'd and ahh'd. Wonderful hot tea and coffee was always readily available. Louise was just a gracious host...can't say enough about her. I caught a cold on our travels and I didn't want to impede the rest of the group so she actually went out of her way to get me a little space heater so I'd be extra snuggly. Such a dear, kind person. This B&B is a must if traveling with a group to Kinsale. A definite value and just a 10 minute drive into town. Beautiful place for a morning walk too. And then return to one of the best breakfasts you'll ever have! Can't thank Louise enough...we'll definitely be back.
Annie
2017-03-18T00:00:00Z
We had a lovely (unfortunately, short!) stay at the Santane House. Louise was such a wonderful host and ambassador to the Kinsale region! She secured our group of four with a last minute reservation at the Black Pig (delicious!) on our first & only night. We then woke up to freshly brewed coffee, green juice, yogurt, cereal & an incredible egg and sweet potato bake, which filled us up before Louise directed us to a stunning hike at Nohoval...a must see when visiting Kinsale, and only a short drive from the farm house. We would definitely love to stay at Santane House again, and hopefully for longer next time!
Julie
2016-05-14T00:00:00Z
The farmhouse was beautifully decorated and the breakfast was divine.
Emily
2016-09-20T00:00:00Z
Louise was a wonderful host, extremely accommodating and couldn't do enough for us. We were a family party of 8, the accommodation was perfect of us, with a beautifully decorated living room to hang out and play lively board games. Breakfast was yummy - the fresh home made brown bread was a massive hit.
Niall
2016-06-29T00:00:00Z
Room Type
Entire home/apt
---
Property Type
Bed & Breakfast
---
Accommodates
8
---
Bedrooms
Kinsale, Cork, Ireland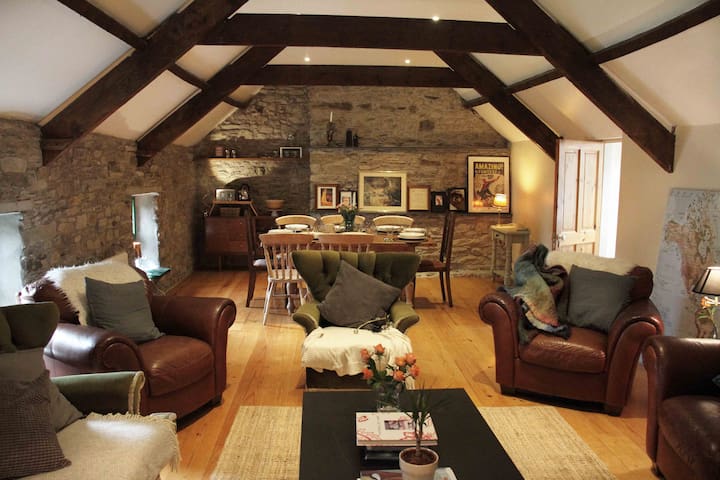 My apartment is beautifully situated, practically on the water,looking out to sea and back into town ,which is a ten minute walk away .Close to the historic Charles fort, Summer cove and the great Bulman pub./restaurant
The view is the is stunning ,from both the living room and bedroom.
I love the scenery,the easy access to the town ,and the proximity of beaches
Room Type
Entire home/apt
---
Property Type
Apartment
---
Accommodates
2
---
Bedrooms
Kinsale, County Cork, Ireland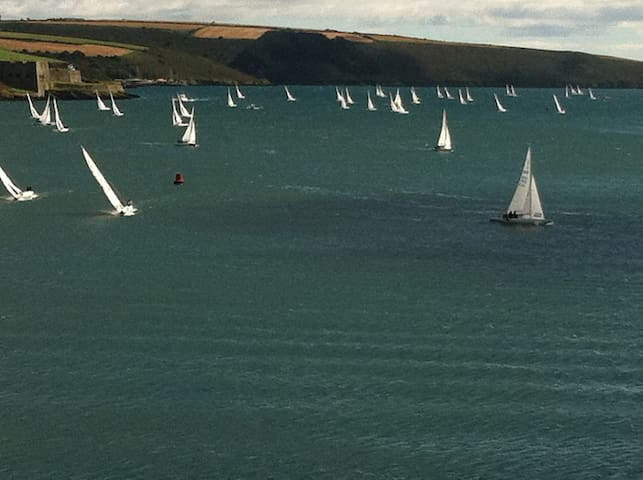 A beautiful, clean and stylish room with its own front entrance and shared back entrance through the garden from the parking space. A separate dining area and kitchen with all facilities except cooker (has microwave). Separate toilet and shower rooms.
The flat is entirely self-contained so you come and go as you please. The place feels indulgent like the managed apartments of a plush hotel.
Close by is the renowned gastro pub The Bulman, with seating by the water's edge and views back to Kinsale, across to James Fort and out to open sea. A short walk away is the impressive Charles Fort built in 1680.
Very nice location, nice, clean and quiet little apartment. Next to great pub 'The Bulman'. Kinsale is a pretty town.
Remco
2016-07-27T00:00:00Z
All perfect. Great to be able to park off the road. Love Summer Cove! Lots of space, lots of hot water, great bed and great wifi. We only really made a couple of hot drinks and a piece of toast but kitchen was great - cafes and restaurants too good to miss!
Margaret
2016-07-18T00:00:00Z
Lovely place! The flat has everything you need. Cozy bed, kitchen and good wifi. Right next to it is the Bulmans pub with really good food. We didn't go to town but it's in walking distance. Adrian was super friendly and welcoming. He answered all the questions we had and we felt comfortable. Would have loved to stay longer.
Jacqueline
2016-09-16T00:00:00Z
Adrian was very welcoming, helping us to settle in and recommending local places to eat and drink. The room was perfect for our one night stay - very comfortable bed and in close proximity to loca pub, The Bulman, which served delicious fresh fish. Overall a relaxing stay in a beautiful part of Ireland that was great value for money.
Amy
2016-09-10T00:00:00Z
We only got to spend one night, but it was a lovely place in a great location. Adrian was responsive and helpful when our flights were delayed and we ended up getting in very late. Thanks!
Elizabeth
2016-07-10T00:00:00Z
Adrian and clodagh were great hosts, we had a last second cancelation traveling for a wedding and they took us on board immediately after messaging them, their home is huge, warm and cosie. Very comfortable bed, great hosts and great location with great food available around the town. Thanks a lot guys and will definatly be back again in the future if ye'll have us :D
John
2016-08-02T00:00:00Z
Nice Suite, comfy bed, and full kitchen was great! We had a vehicle, so the location was easy to get to. The suite is a short walk from Charles Fort and next door to the Bulman Pub. It's a 5-10 min drive into town, but would also be walkable. Adrain gave great directions for finding the suite and was easy to get a hold of.
Ben
2016-09-20T00:00:00Z
Adrian and Clodagh were wonderful hosts! Adrian met us at the Bulmans pub next door which had amazing food and walked us to the flat that was very clean and spacious. he gave us great suggestions for the area and we were left coffee, tea and breakfast items for the next morning. kinsale was one of our favorite places we stayed. the town was quaint and Charles fort just a short walk from the flat was amazing! would definitely stay here again!
Carol
2016-09-14T00:00:00Z
Room Type
Private room
---
Property Type
Apartment
---
Accommodates
2
---
Bedrooms
Kinsale, Cork, Ireland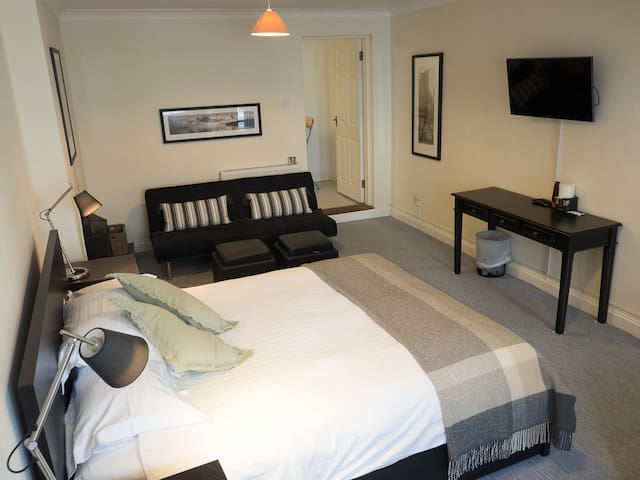 This is a lovely little ground floor studio apartment next to the sea on the most beautiful walk and at the beginning of the Wild Atlantic Way. It's a 15 min. walk to Kinsale town center (along the sea side) and a 5-7 min. walk to three great restaurants and four pubs.
Our little studio is a ground floor apartment on the most beautiful walk in town, with Charles Fort and Summercove's award winning pub/restaurant "The Bulman", just being a 5min.walk away in the one direction and the amazing "Man Friday" restaurant, "The Spaniard" pub/restaurant and "The harbour Bar" are also only a 5min.walk in the other direction. It is the only a 15 min.walk to Kinsale town centre, with many many more great restaurants, pubs, cafés, shops, marina (boat hire) etc. The closest sandy beach (Castlepark) and James fort are a 5 min. drive away.
Diana's place is beautifully and thoughtfully arranged, cozy and in a great location. Diana is a wonderful host , very attentive and easy to communicate with . Would definitely stay again
Nicola
2016-12-29T00:00:00Z
Lovely location. Very friendly host.
nora
2017-03-25T00:00:00Z
We couldn't have asked for a better spot than Diana's cottage located along the Scilly Walk. Even better than the incredible views of the Kinsale harbor was Diana herself. Since the location isn't car-friendly, she picked us up at a parking area near the end of Scilly Walk. Her warmth and sincerity welcomed us as she began asking about our travels. Once at the cottage, Diana explained how everything worked and noted the few comforts she thought we'd enjoy: two kinds of bread with assorted jams (YES) and homemade Christmas Cake (YES), all the fixin's for coffee and tea (YES), cereal and snacks including dark chocolate (YES), and milk and butter in the fridge. Our second night, New Year's Eve, Diana greeted us with a bottle of champagne. CHEERS! to any and all who stay in the magical village of Kinsale at Diana's truly extraordinary cottage.
Brandon
2017-01-01T00:00:00Z
The place is very unique and beautiful. Diana was so accommodating and even brought me on a tour the day I left. She also brought me some homemade food from her place in the evening I arrived ! She really is a great host and loves what she does so well. I highly recommend it to anyone visiting Kinsale : you can enjoy a peaceful/quiet/scenic setting while it is only a little 15 min walk to the town. Nice restaurants and pubs close by as well, even Lili the cat welcomes you :) Top marks !
Julie
2017-01-08T00:00:00Z
A lovely secluded location but still close enough to enjoy the beauty of kinsale and the surrounding area . Great hosts with lots of local knowledge and very helpful.
Robert
2017-03-05T00:00:00Z
Our stay in Kinsale was truly wonderful. We could not have asked for more, everything from the location to Diana's overwhelming kindness and hospitality. A beautiful apartment, perfect for some peace and tranquility, with breathtaking views and everything you could ever ask for. Diana is kind beyond words, going above and beyond to ensure our visit was an enjoyable one. We cannot thank you enough for sharing your apartment with us and for everything else you did for us during our stay. We were so sad to be leaving at the end of our stay but will definitely be back before long. Diana, again, a million thank you's for making our first anniversary such a memorable one. Hopefully we will see you again soon. Adam & Claire. x
Adam
2016-09-13T00:00:00Z
Beautiful apartment with a great view of the sea. Compact, but perfect for two. Diana was most gracious, bringing food supplies on arrival and offering her assistance with reservations for tours, dinner and anything we needed. Kinsale is such an interesting place to explore. Next time we'll stay longer. Thanks, Diana!
ellen
2016-09-28T00:00:00Z
Diana was an excellent host, she gave us a really warm welcome and provided lovely food. The place was great, very relaxing and Kinsale is beautiful. Will definitely be coming back :)
Julia
2016-09-03T00:00:00Z
Room Type
Entire home/apt
---
Property Type
Apartment
---
Accommodates
2
---
Bedrooms
Kinsale, Cork, Ireland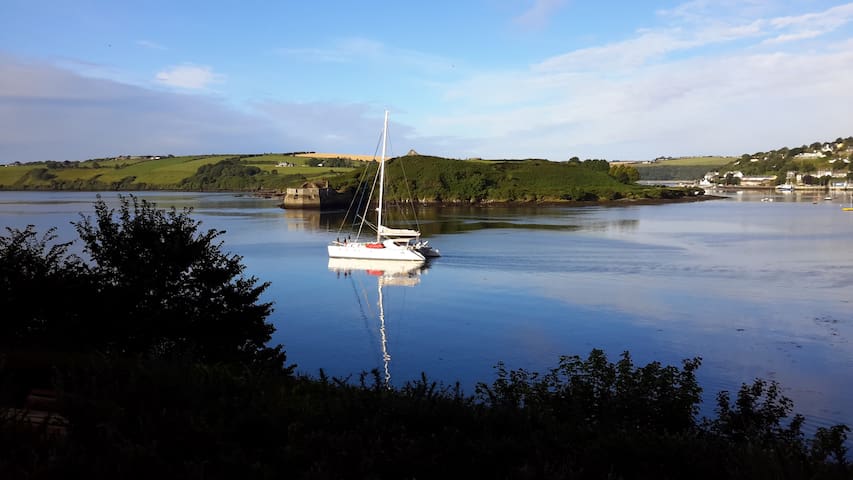 Refurbished wooden cabin overlooks Oysterhaven. This self contained unit in this peaceful place restores a feeling of nature.
Located in Oysterhaven our wooden cabin hosts magnificent views of the bay. Wake up, open the windows and gaze at the atlantic ocean. Eat breakfast on the decking, read a book by the fire. Many moments of peace to be enjoyed. The unit has a double bed in main bedroom, potential to accommodate a fold up single bed also in living area. WC, shower, small kitchen, camping cooker, fridge, freezer & gas heating.
Oysterhaven is a place of beauty close to nature. It has an active beach during the day with lots of watersports taking place. In the evening it is popular with evening walks across the coast. Please bring warm clothes and rain gear for the weather in winter!
The place was even better than I imagined. A lot bigger and I really liked the lived in feeling to the place, I felt immediately at home. Ann is a lovely lady, I just felt really comfortable around her she made me feel most welcome. The absolute best thing was waking up with a stunning view, there had been a bit of a storm and in the cabin you really feel at one with nature. If I stay again I'm gonna have to make friends with the dogs next door as they were inquisitive but in no way intrusive, I think they summed the place up as they looked as happy being there as I was!
Daren
2015-12-19T00:00:00Z
Cozy, rustic, in a beautiful location. Cooking essentials are supplied in the cabin. Ann baked scones when we arrived, her homemade preserves are delicious. Tom keeps his eye on everything and makes sure that all of the guests needs are met. Waking up to the view of the bay is wonderful.
Francie
2014-09-27T00:00:00Z
The cabin was just like the pictures, absolutely beautiful. Our plane was delayed and Ann was up waiting for us to welcome us and had the fire going, which was a really nice touch. Had a fantastic time at the cabin, close to Kinsale with its delicious restaurants. Ann and her family were always very helpful and friendly. I highly recommend staying here.
Anna
2015-04-07T00:00:00Z
We loved the cabin. It was a perfect place to spend our cosy Christmas. We had little interaction with Ann due to the holiday, but felt very welcomed. She had even decorated a bit for Christmas and made the arrival process smooth. We would recommend the cabin!
Kati
2014-12-27T00:00:00Z
We had a lovely stay at the cabin. Great view and Ann's so friendly. She gave toys to our little boy and he felt like home !
Lucie
2015-08-19T00:00:00Z
The location and scenery is amazing. Ann was extremely welcoming and you could even enjoy a few of her art pieces in the cottage. Cottage was just what we were looking for.
Jared
2017-03-11T00:00:00Z
Ann collected us from Belgooley bus stop and drove us out to Osyterhaven, which was great because we would have had no other way out, Ann offering lifts was super helpful during our stay. The cabin was perfect, just as described on the page. The view was fantastic, the bay was dotted with kids from the adventure centre out sailing and windsurfing. The cabin was cozy and perfectly equipped for a short stay. We really enjoyed the time we spent at the cabin and Ann was a brilliant, accommodating host. We will definitely try to come back at some point. PS. I recommend sitting out on the deck in the evening if there's a clear sky because never in my life have I seen such a starry sky as I saw above that cabin
Ben
2016-08-28T00:00:00Z
Ann's place was wonderful. Tricky to find but just follow the signs. There is true beauty at this place. You will not be disappointed with the view and short drive into Kinsale town.
Steve
2016-09-13T00:00:00Z
Room Type
Entire home/apt
---
Property Type
House
---
Accommodates
2
---
Bedrooms
Co Cork, Ireland, Ireland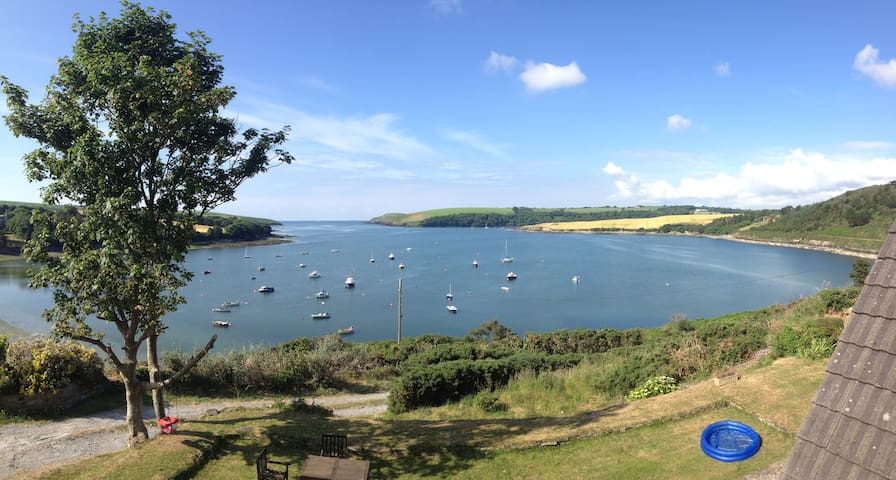 Luxurious 3 bedroom house recently renovated to a very high standard with spacious accommodation throughout. Located in Summercove the house enjoys beautiful views towards Kinsale harbour from the front terrace. Situated within a 3 minute walk from the famous Bulman Bar & Toddies Restaurant. Kinsale, the Gourmet capital of Ireland is only a 5 minute drive away or a 15 minute stroll along the Scilly walk, a beautiful walk along the sea. Cork International Airport is only 20km by car.
The property is open plan style
Area is safe and quiet great for walks.
Celene and her place are simply lovely. The home is thoughtfully, lovingly, tastefully and comfortably appointed and Celene was a delight. Her breakfast treats gave us a great start to the day and her helpful tips regarding Kinsale assured a very enjoyable time. I stayed with my elderly parents and all enjoyed great sleep and respite from busy travels. If ever in Kinsale again, we would love to stay here.
Margaret
2016-10-07T00:00:00Z
Celene was a wonderful and gracious host. Her home is beautifully decorated and was perfect for our family. We appreciated the fresh bread, milk, juice and cereal that Celene provided. Kinsale is a beautiful village. We highly recommend this home and hope to return soon!!
Debbie
2016-09-09T00:00:00Z
Celene was a fantastic host and the house was finished to a high standard. The beds were very comfortable and the house was lovely and warm. Thanks for the breakfast provisions too! Loved our stay :-)
Katy
2016-09-11T00:00:00Z
We had a lovely couple of days. Celene gave us a really warm welcome. House was so lovely and clean and tidy. We were really comfortable and slept great. We ate in Fishy Fishy and Finn's Table in Kinsale. Both were lovely but Finn's table was amazing.
Laura
2016-09-15T00:00:00Z
The host canceled this reservation 257 days before arrival. This is an automated posting.
Jean
2016-10-24T00:00:00Z
Lovely home, very comfortable and clean. Host left some snack, Juice, butter, eggs and bread for a quick breakfast we used the day of departure. Would highly recommend.
Larry
2017-04-06T00:00:00Z
Celene warmly welcomed us to her property showing us through and making sure we were settled in and knew how to use essential items. Celene went above and beyond providing bread, cereal, milk, eggs, juice and more including a pasta bake meal. This was really great as we did not have to venture out again after driving all day. Celene's property is absolutely beautiful. It is extremely clean, well presented and well maintained. The street is lovely and quiet and well placed only a short distance from town. The beds are extremely comfortable. This property is truely a home away from home. If you are staying in and around the area you would be mad to miss this hidden gem. Thank you again Celene.
Wade
2016-09-29T00:00:00Z
Our stay at Celine's house was perfect. It felt like home from home to us. The house had everything we were looking for, very clean, cozy and great location being close to town. Celine even made it perfect for our kids with bringing toys and books over.
Peggy
2016-09-22T00:00:00Z
Room Type
Entire home/apt
---
Property Type
House
---
Accommodates
6
---
Bedrooms
Kinsale, Cork, Ireland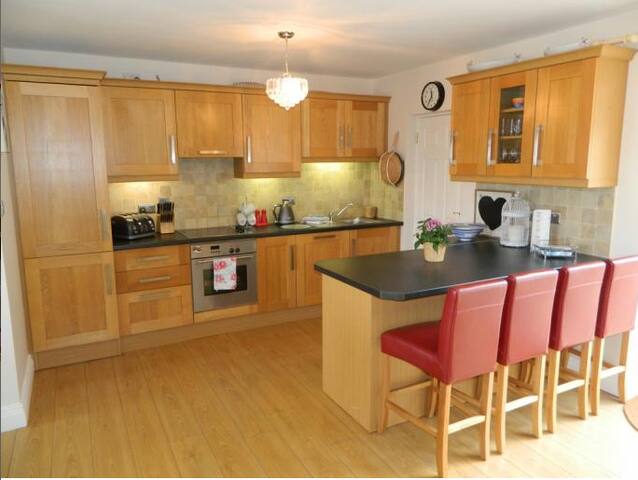 Anchor Lodge is set in the picturesque village of Summercove, and offers expansive views overlooking the historic town of Kinsale and it's beautiful harbour. Please check out our other listing, "Double room in Stunning Location". Please read all the information carefully.
We have a double en-suite bedroom with breakfast included. This room has a view of Kinsale across the harbour.
Located within walking distance of the centre of Kinsale town ( aprox. 1.75km) and very close to the historic Charles Fort. This is a quite cove within Kinsale harbour and has a small shingle beach dependent on the tide. Kinsale offers a wide selection of restaurants to suit most tastes and wallet.
Lovey B+ B in Kinsale. Best view ever out of our rooms window. Bulganin pub a 5 minute walk and great food . Lovely hosts and tasty breakfast. Felt like home.
Melissa
2016-05-20T00:00:00Z
Beautiful home! Clean, quiet and private room with a spectacular view. We had a really good night's sleep. Our hosts were friendly and helpful. The breakfast was delicious! There is a pub right down the hill, less than five minutes walking. You can grab a pint and check out the beautiful views. We were very happy to stay here.
Amber
2015-05-18T00:00:00Z
Large, comfortable and beautiful room with amazing views of the harbor and town. Very short walk to Bulman pub which has outstanding food and wonderful atmosphere. Walk to kinsale is about 25 mins, but is Ali g the water and quite lovely!
Linsey
2015-05-08T00:00:00Z
Richard and Martina were impeccable hosts and we could not have asked for a better place to stay in order to enjoy our time in Kinsale. The room was wonderful as was the delicious breakfast. Both made us feel very much at home and we would definitely stay there once again on our next trip to Ireland.
Steve
2016-07-10T00:00:00Z
The house is perfectly located overlooking the water and Kinsale. The views were amazing, the room was large and comfortable. We could not have asked for a better experience in Kinsale!
Jennifer
2016-06-18T00:00:00Z
A really special place to stay. The setting is magnificent and our room was lovely. We will definitely be back !
Julie
2016-06-01T00:00:00Z
1ST B&B on the Wild Atlantic Way was a wonderful experience. The accommodations were great, the views fantastic and the hospitality even better. I strongly recommend Martina's place. It is convenient to downtown Kinsale and is also adjacent to Charles Fort and some great walking trails. The Bulman at the bottom of the road, less than 5 minute walk, offers excellent food and drink. It became our "local" for the stay. Our hosts Martina and Richard always made us feel welcome and property is just beautiful inside and out. We will be back.
Edward
2015-07-16T00:00:00Z
Stunning views from your ideally located house Richard and Martina. Beautifully clean and tidy accommodation. Great location close to waterfront walks and pub restaurant
John and Judi
2016-06-14T00:00:00Z
Room Type
Private room
---
Property Type
Bed & Breakfast
---
Accommodates
2
---
Bedrooms
Kinsale, Cork, Ireland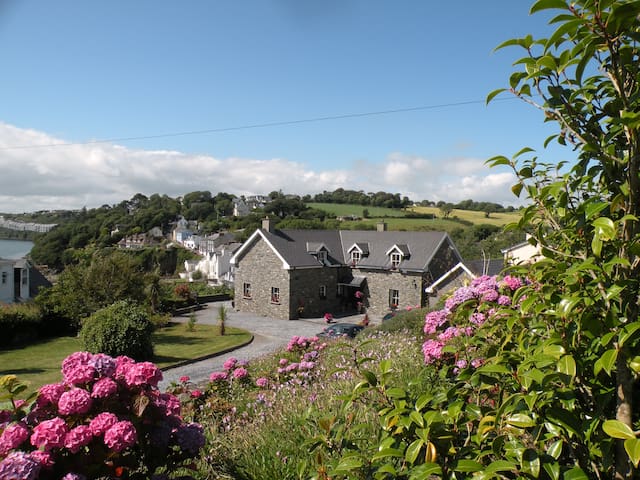 My place is good for couples, solo adventurers, business travellers, and families (with kids).
Horse Riding Follyfoot Riding Farm, Shanavally, Riverstick Tel: (PHONE NUMBER HIDDEN) (Mary) Golf Kinsale Golf Club, Farrangalway 18 holes €25 - 40 per round Tel: (PHONE NUMBER HIDDEN) Boats Sailing Courses, Cruising and Yacht Charter Families and over 18s Sovereign Sailing, Kinsale (URL HIDDEN) Tel: (PHONE NUMBER HIDDEN) Courses and Cruising Families and under 18s Oysterhaven Centre - Spirit of Oysterhaven Tel: (PHONE NUMBER HIDDEN)lllinadee Stables Tel: (PHONE NUMBER HIDDEN) Rumleys Open Farm. Address: Liberty Hill, Waterfall, Co. Cork. Tel.: (PHONE NUMBER HIDDEN) or (PHONE NUMBER HIDDEN) Kinsale Tourist office Emmet Pl, Sleveen, Kinsale, Co. Cork, P17 C973 Phone: ((PHONE NUMBER HIDDEN) Flying lesson ,Ballygarvan Upper, Kinsale Road Co Cork. (PHONE NUMBER HIDDEN)
The host canceled this reservation 46 days before arrival. This is an automated posting.
Louise
2017-03-13T00:00:00Z
What a nice and quiet place to stay! Very good location, caring host and so much space! Thank you
olivia
2017-03-18T00:00:00Z
Room Type
Entire home/apt
---
Property Type
House
---
Accommodates
8
---
Bedrooms
Ballymartle, County Cork, Ireland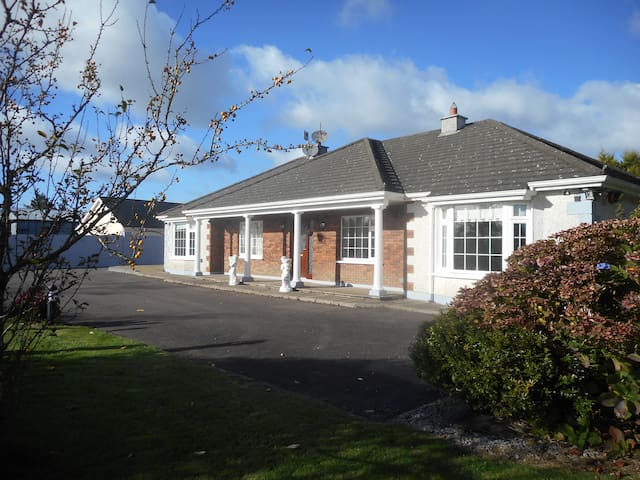 The living is easy for the most perfect holiday in this beautiful two bed apartment with lawned area. The only sounds to hear are the lapping waves, birdsong and the fishing boats/sail boats making their way in and out of the harbour. Ardbrack Heights is a very quiet & tranquil complex, with private gated entrance & parking. This apartment is set in the most amazing location overlooking the picturesque town of Kinsale, the first/last stop on the now famous " Wild Atlantic Way"
Very tranquil & quiet to absorb the magnificent views. Whether you are indoors or outdoors or relaxing in the main bedroom the panorama view is there to enjoy. There are 3 flights of stairs down to my apartment (but well worth it!) so it may not suit everybody. Ardbrack is right in between the famous award winning "Man Friday" restaurant (less than 10 mins walk) the historic "Spaniard Pub" next door to "Man Friday" & another award winning pub & restaurant "The Bulman" in Summercove (less than 10 min walk) a majestic walk along the Scilly walk takes you there.
Room Type
Entire home/apt
---
Property Type
Apartment
---
Accommodates
4
---
Bedrooms
Kinsale, County Cork, Ireland
En Suite bedroom Generous continental Breakfast included Our home is uphill from the town centre, But only a 6 minute walk(may take a little longer on the way home) For Review's visit our "Golden Gate House Kinsale" on Tripadviser
Two other rooms available under separate listing "Golden Gate House, Kinsale, Room-2" and "Golden Gate House, Kinsale, Room-1" This is a comfortable room with a double and single bed, It has a TV and is en-suite . It is situated at the back of the house.
Carol & her husband were an excellent host! The room & house were just wonderful! Picturesque for the cute town of Kinsale. Super clean, enough space for us, felt at home. The breakfast & breakfast area was outstanding! Carol made sure we had everything we needed. Very easy to talk with. I would definitely recommend staying here! Couldn't have asked for a better place to stay!
Samantha
2016-06-19T00:00:00Z
Our one-night stay in Golden Gate House B&B was great. A fine ensuite room, very good mattress and great buffet breakfast. Only 5 minutes walk from the centre. Recommended.
Ferdinand
2015-09-21T00:00:00Z
Everything was perfect, the house, the warm and cosy bedroom, breakfast!!!we felt very welcomed by all the family.... don t dare any more for booking here and enjoy !
virginie
2016-10-22T00:00:00Z
Carol's house was fantastic. We only stayed one night, but wish we had booked in for more! The room was great. We were in a large en-suite, which was very comfortable and the house was spotless. Carol was lovely and keen to give advice on the local area. A highlight was the breakfast the next morning which was very tasty and the perfect start to our long day ahead. The house is a perfect location to the main area of Kinsale, we walked into the main street in about 5 mins to restaurants. Would definitely recommend the Golden Gate House to anyone wishing to stay in the Kinsale area.
Niamh
2016-09-22T00:00:00Z
Carol was a FANTASTIC host! We got a little lost on the way (totally or fault) and she actually drove out to find us and bring us back. The room was bright and clean, the bed comfortable, and the bathroom stocked with the essentials and modern. Carol had cereal, yogurt, granola, fruit, coffee, tea and juice out for breakfast and she even made warm scones! We would 100% love to come back should we ever return to kinsale (which is a lovely place)!
Sarah
2016-01-20T00:00:00Z
Lovely stay in Golden Gate,room was perfect, really clean. Carol is really nice also, dropped us down to hotel in kinsale to save my feet in high heels. Definitely would be booking again if ever down again.
Mairead
2015-09-20T00:00:00Z
Golden Gate House hosted by Carol is very comfortable and great place for staying. Room was very nice and clean. We had everything we needed. Golden Gate Hose is highly recommended by us. It was quite easy to find the right place and the description was relevant. What is more, Kinsale is a very nice and lovely little town - one of my favorite in Ireland :) I really recommend Golden Gate House and Kinsale! :)
karmen
2016-08-16T00:00:00Z
We only stayed for a quick layover, but Carol couldn't have been friendlier or more accommodating. She gave us everything we needed to get set up and check out the neighborhood and was up in the morning with incredibly delicious fresh scones, even though we had to get on the road very early. All in all, would highly recommend and would easily come back when we're in Kinsale for a longer trip.
Narissa
2016-03-23T00:00:00Z
Room Type
Private room
---
Property Type
Bed & Breakfast
---
Accommodates
2
---
Bedrooms
Kinsale, Cork, Ireland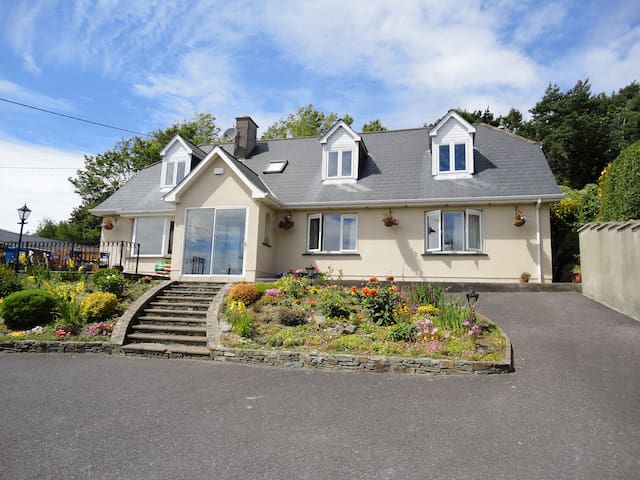 Directly overlooking Kinsale harbour with magnificent views. Birdsong, seal watching,dining among the seagulls.very quiet secure landscaped gated complex with private access to Scilly walk to take you along the shore to Summercove village and Charlesfort and ocean walks.enjoy gourmet Kinsale with its lively pub culture.
When you sit on the patio you would imagine you were alone, no sounds, only the chirping of sea birds or the odd gull swooping past. The ebb and the flow of the tide will draw you each day. Perhaps you will track a seal following a shoal of mackerel or watch the yachts battling away for the wind. Maybe you will golf at the famous Old Head course or hire a boat to fish. Or just lie on CastlePark beach before calling to Bobby at the pub for a chat and a pint.
It's a residential area, very quiet but only 5 mins walk to the attractions of Kinsale town and gateway to the Wild Atlantic Way. The apartment is set above the trees and directly overlooks the water.
My Mom, Dad, boyfriend and I stayed at Fionnuala's lovely condo at the end of September. I wish I had booked longer to stay there, as I did not want to leave. We loved sitting in the sunroom or out on the balcony and breathing the fresh air and watching the activity in the harbor. Fionnuala recommended Man Friday which is an excellent restaurant within a short walk. It was great. Next door to Man Friday is the Spaniard where one night I got to listen to a sit in trad session that was wonderful and the next night we had another lovely meal. The Scilly walk towards town or towards the fort is also really nice. We really appreciated the bread and butter and jam that Fionnuala provided, it made for a great breakfast. The beds are super comfortable, the kitchen is fully functional, and as we were packing light, we really appreciated being able to do some laundry. If I come back to Ireland, I would certainly stay here again, except for much longer.
Dayna
2016-09-27T00:00:00Z
Fionnuala was an absolutely gracious and accommodating host. The directions she provided were very easy to follow. The space offers lots of natural light and the view from the condo was amazing; it was the stop and stare type of scenery. Also so close to downtown Kinsale; a very pleasant walk. The town itself is utterly charming as Fionnuala described. We had an absolutely lovely time and I highly recommend this property.
Milli
2015-08-31T00:00:00Z
This apartment is wonderfully located on the water between Kinsale and Charles Fort. Easy to walk to each. Fionnuala was very communicative and made it easy for us to get situated with detailed instructions regarding the property. As we are a family of six adults, it was nice to have the extra set of house keys and functioning washer and dryer. I'm sure it was Fionnuala who ordered the lovely weather for the week! Thank you!
Lynda
2016-06-11T00:00:00Z
The phenomenal view says it all!
Carla
2016-06-21T00:00:00Z
I recently had the pleasure of staying in Fionnuala's beautiful Kinsale apartment with my family of 7 for 2 nights I late June 2016. I truly can't say enough nice things about how gracious she was as a host and how perfect her apartment was for a large group. The unit was clean and well stocked for my large family and had all the much needed traveler amenities like a washer/dryer and tv with cable. Fionnuala was very responsive with all inquiries and made meeting her and checking into the unit a breeze. She even gave us a loaf of fresh Irish bread and jam to enjoy in the morning. Kinsale is only a 10 walk down a quiet path, and the Spaniard bar is located mid way, unless you can't go that far without a proper pint. One of our biggest regrets of the stay was that we didn't leave an extra day to just spend on the nice deck and enjoy the panoramic views of the bay (seriously, worth the rental alone). Very highly recommended!
Ivan
2016-07-02T00:00:00Z
Directions and instructions were direct and easy to follow. View is unrivalled in Kinsale. Stairs is dangerous for a family so best to avoid with children.
Karen
2015-09-10T00:00:00Z
The host canceled this reservation 79 days before arrival. This is an automated posting.
Jack
2016-04-28T00:00:00Z
It was lovely. A beautiful place with a wonderful balcony. Very nice and helpful host. Definitely recommend it.
Megan
2016-09-28T00:00:00Z
Room Type
Entire home/apt
---
Property Type
Apartment
---
Accommodates
6
---
Bedrooms
Kinsale, County Cork, Ireland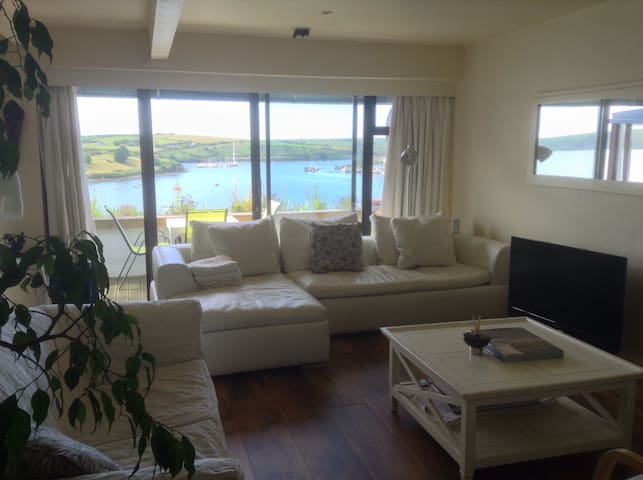 Our 3 bedroom apartment is centrally located in Kinsale town with all its tasty restaurants, tapas bars & music bars within walking distance. We have reused the old pine doors & exposed the old brick creating a cosy feel. Linen & towels provided.
There are 14 steps leading up to the apartment which is all on one level. When you enter there is a door leading to the three bedrooms and toilet/shower room. Straight ahead you'll enter the dining/lounge/kitchen area. We are right in the heart of Kinsale town so a car is not necessary. We have a travel cot available free of charge - if you would like to avail of it during your stay with us just let me know.
Centrally located in walking distance of great bars, restaurants and the harbor. Elsie was quick to respond to all messages and was very helpful during check-in. There were 4 of us and we had plenty of room. We had a great stay and I would certainly recommend this apartment if you're staying in Kinsale.
Cory
2016-11-20T00:00:00Z
Elsie was incredibly friendly and welcoming. She is also around the immediate vicinity at the shop, so that is comforting in case any issues or questions arise. The apartment was set up really well, comfy beds, working kitchen, plenty of space. Also the location could not be more central.
laura
2016-07-13T00:00:00Z
Elsie was very welcoming and she had provided tea, coffee, orange juice, cereal and milk etc which was great. The apartment is in a great location but it was also quiet at night. It was great value for a 3 bedroom apartment in such a nice town.
Patricia
2016-07-19T00:00:00Z
The apartment is located near everything in this small community. It is a large space somewhat rustic and was (URL HIDDEN) is ideal for families . Elsie and Julien were great hosts. They helped us with reservations for dinner and were very responsive.
Stephanie
2017-03-23T00:00:00Z
Elsie's place was perfect. Very clean and spacious with a perfect location in the beautiful town of Kinsale. We had everything we needed and communication was great. I would definitely stay here again and recommend it to anyone wanting to spend a few days in Kinsale.
Jake
2016-11-28T00:00:00Z
Elsie welcome us warmly and the housing was really nice and beautifully furnished. It is very comfortable and it is located in the very heart of Kinsale. It's the ideal place to start your journeys for discovering the south coast.
Thomas
2016-08-08T00:00:00Z
Perfect location for our stay in Kinsale! Central to everything. Elsie was extremely helpful in providing us with great information in and around town. Highly recommend! We will definitely stay again!
Paul
2016-11-23T00:00:00Z
Elsie and Julien were lovely hosts and were available just downstairs if we had any questions. The apartment is literally in the middle of town, the location is great and Kinsale is a gorgeous little town. Some lovely beaches and Fota Island Wildlife Park were within a short drive.
Clare
2016-08-19T00:00:00Z
Room Type
Entire home/apt
---
Property Type
Apartment
---
Accommodates
6
---
Bedrooms
Kinsale, Cork, Ireland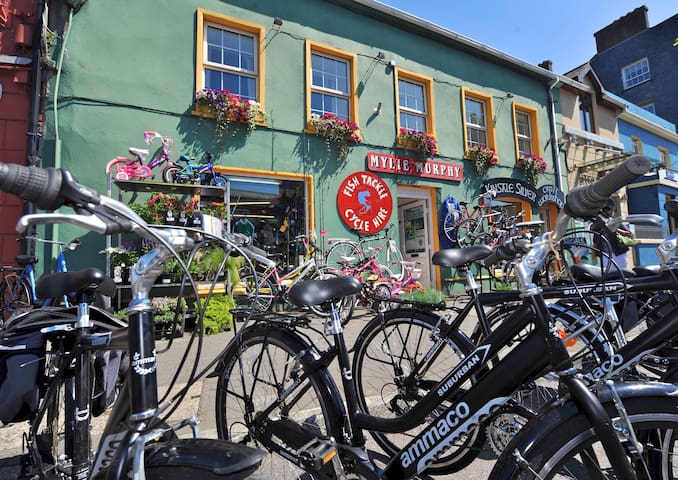 Beautiful, charming 200yr old farmhouse 10 mins drive to fishing town of Kinsale Top quality beds & bedding-feather/goose down duvets & pillows Eclectic style with a cosy feel and open fire in living room There are 4 beautiful double rooms, all of which can be twin with advance notice-great for groups of 8 Breakfast each morning consists of tea/coffee, juice, home-made granola, organic yoghurt & fresh fruit salad, home-made bread, jams and a daily hot dish served family style. See reviews!
We are always available to answer questions and help in any way we can.
Kinsale has an abundance of things to do and see. Best known for its ample history as well as its consistently thriving food scene, it has endless water-sports, nature walks and golf to be enjoyed also. The town itself is full of character and history and so an afternoon spent wandering through its gorgeous boutiques, bustling cafes, organic farmers market and historical ruins is a day well filled. Many a characteristic watering-hole also ;-)
Room Type
Private room
---
Property Type
Bed & Breakfast
---
Accommodates
2
---
Bedrooms
Kinsale, Cork, Ireland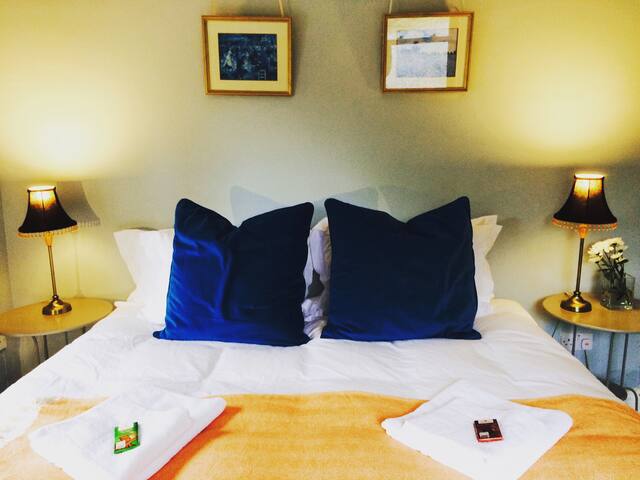 Marina apartment is ideally located adjacent to the Marina with stunning views on your doorstep and a few minutes walk to the town centre. The apartment consists of a large open plan living/dining area, modern fully equipped kitchen, bathroom with bath and shower and a double bedroom. Electricity, Wi-fi, cable channels and a welcome pack are all included in your stay. There is private parking for our guests to use which can be very helpful during the busy season.
A one bed ground floor apartment in a fabulous location all to yourself.
- Kinsale is the gateway to scenic West Cork and is the start/finish to the Wild Atlantic Way. It is one of the most picturesque, oldest historic towns on the south west coast of Ireland. The old head of Kinsale is close by with its world class golf links. Kinsale of course is well known as the 'Gourmet Capital of Ireland' with numerous cafes, pubs and restaurants to suit every taste and budget. - Kinsale is a popular marine activities hub with deep sea angling, boat hire, fishing, sailing, kayaking and climbing. A great way to explore Kinsale is by foot, there are walking tours available from outside the local tourist office 5mins away. There is also a harbour tour daily where you can view Kinsale from the water.
We were met by Sarah's husband who showed us everything about the apartment and gave us some great tips on the best bars and restaurants in town. The apartment was spotless and in a great location, just a few minutes walk into the village. This apartment is extremely well equipped. Sarah has thought of everything you might need for a stay. It's a true home away from home. We highly recommend Sarah's apartment.
PETER & JOY
2016-08-24T00:00:00Z
Great apartment. Perfect location and lots of nice extras like milk and water in fridge, toiletries in bathroom. Will stay again when we come back to kinsale . Perfect for the two of us and our baby.
Mairead
2016-11-01T00:00:00Z
A fabulous few days in beautiful Kinsale in an excellent apartment, with the perfect location. Sarah could not have been more friendly, welcoming or supportive. We would recommend the Marina Apartment to anyone.
James
2016-08-18T00:00:00Z
What a fabulous apartment. Our host sarah was wonderful and made sure our experience in kinsale was amazing. The location in simply perfect.
David
2016-08-09T00:00:00Z
Sarah's place was clean, modern, comfortable, and was close to everything Kinsale has to offer. The on site parking was really handy and the ground level entrance was easy for luggage. Thanks for making our stay so enjoyable!
Simon
2017-02-25T00:00:00Z
Fantastic location, tremendous accommodation in the mist indylic of locations. I highly recommend!
Annette
2017-03-16T00:00:00Z
Perfect host, perfect apartment, perfect location. Ideal for couples who like to be in the heart of town.
Mary
2016-08-28T00:00:00Z
Sarah was readily contactable, met us at the apartment and showed us what's what. She left us to our own devices thereafter which suited us. We felt welcome and trusted.
Patrick
2016-06-25T00:00:00Z
Room Type
Entire home/apt
---
Property Type
Apartment
---
Accommodates
2
---
Bedrooms
Kinsale, Cork, Ireland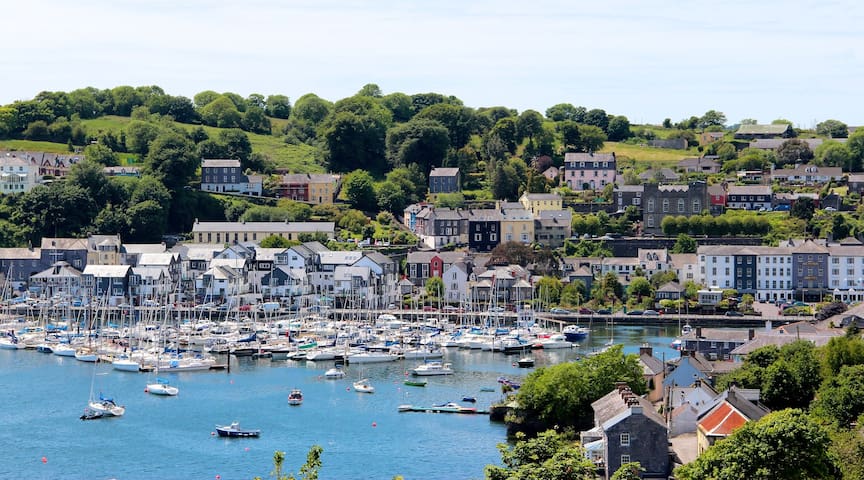 Hi welcome to my home, It's only a 5 minute walk to Kinsale town, you'll have private off road parking and private entrance and full use of all the house space and living area My place is close to great views, the beach, family-friendly activities, art and culture, and restaurants and dining. You'll love my place because of the neighbourhood, the light, the kitchen, the comfy bed, the cosiness, the quietness. My place is good for couples, solo adventurers, and business travellers.
Really great place to stay! The place was spotless and it's so close to everything in kinsale. The owner Clem is a sound fella too!
Sean
2017-03-19T00:00:00Z
We stay at Clem's house for one night and it was perfect! Clem is a great and very accommodate host. His house is very clean, spacious, with a beautiful view and it is so closed to Kinsale town (5/6 minutes walk) We totally recommend him if you plan to visit Kinsale and its surroundings.
julie
2017-03-22T00:00:00Z
If I could live at this house for the rest of my life, I would. It's the perfect location just a quick walk down to Kinsale. Clem is hospitable, friendly, and a very talented local musician offering recommendations for pubs with live music and good times. The home is my ideal space with a large open kitchen, a living roo m that looks out over the town, and a bathroom that is the nicest Ive seen in my travels around Ireland. My girlfriend loved the King sized bed and private entrance. We wish we could have stayed for longer, or never left. But for our short stay here Clem offered all we needed. He was very responsive to messages and helped us find his place easily. Be aware gps in this part of ireland can be a bit finicky, so try to make it in before sundown! All in all, a perfect place to stay with a perfect host! Alex & Jaime
Alex
2017-03-05T00:00:00Z
Room Type
Private room
---
Property Type
House
---
Accommodates
2
---
Bedrooms
Kinsale, County Cork, Ireland
Get away from it all and unwind at this unique self-catering property in the charming seaside town of Kinsale in County Cork. The stunning coastline and delightful villages of West Cork are all within short driving distance and yet Cork City and airport are just 30mins away.
This property has been recently redecorated to a high standard and comes complete with every convenience. Accommodation includes 3 double bedrooms, 2 bathrooms, kitchen and living room with double height ceiling. Lovely views of the marina.
Located just around the corner from Kinsale Yacht Club and 3 minutes walk from the centre of town this is the perfect base from which to explore the many award winning restaurants/bars, galleries and artisan shops to be found in this wonderful place.
The home was spacious and nice - the location was as advertised and the view of the water from was great. Check-in/out process was smooth. The five of us fit comfortably in the 2br and 1 open area/loft type sleeping area.
Stuart
2016-07-26T00:00:00Z
After staying in Dublin, this home in Kinsale was just what we needed. We had our 9 year old son and after being in a hotel room, all this space was so nice. Very open, lots of light, amazing view. We had other family staying in at a B&B and they were so surprised at where we were staying for the same cost as their one room. Location is perfect, walking distance to anything you might need, great restaurants (though many closed when we were there, off season) grocery stores so we could make our own meals when we felt like it, a park to play in and cute shops. We loved just walking the upper streets and exploring the neighborhoods. We drove from Dublin (surprised on how quickly I adapted coming from America) and it was nice to have our own parking spot. We were able to entertain 12 people easily, grabbed pizzas from right down the street and the house is laid out so you didn't feel on top of each other at all. Prompt responses from Micheal, he met us on time and gave us the lowdown on the house and the area upon arrival. When I couldn't figure out the lock for the door he hit me right back. Our traveling companions were asking for the listing as they were very impressed as well. Would highly recommend and stay there again. Love the town so much and the people are so nice and pleasant. This is one of the places that remind us why we use Air B&B over hotels. Will be back for sure. Cheers.
Lucas
2016-11-06T00:00:00Z
Good tour of the flat. We were running late and they accommodated the check in.
Scott
2016-10-22T00:00:00Z
Fantastic location and what a view!! Michael was fantastic, very helpful and welcoming. Wished we could have stayed longer.
Diane
2016-08-23T00:00:00Z
Lovely house in the heart of kinsale, only a few minutes walk to restaurants and pubs and the harbour. Loved it!! Michael was very helpful and friendly too and met us on arrival to leave us in
Niamh
2016-08-22T00:00:00Z
What an amazing place in such an amazing town! Everything is within easy walking distance and you have a great view of the harbor. The apartment is three levels, very specious, and includes a full kitchen. Not only did Michael help with recommendations for Kinsale, but gave us a wonderful tour of the apartment to make sure we were comfortable with our stay! If in Kinsale, stay here!!!!!
Evan
2016-09-06T00:00:00Z
Great open apartment with great views! Excellent location too, centrally located. We had a blast!
Jennifer
2016-09-01T00:00:00Z
The listing was accurate. The house was very clean and well placed for the town centre. There was plenty of space.
Nicky
2016-03-01T00:00:00Z
Room Type
Entire home/apt
---
Property Type
House
---
Accommodates
6
---
Bedrooms
Kinsale, Cork, Ireland
Enter dates to see full pricing. Additional fees apply. Taxes may be added.