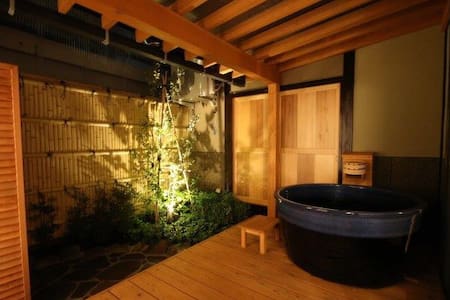 SUPERHOST
Entire house · 6 guests · 2 beds · 2 baths
Near by 高山 Station with "Open -air bath" "Digging"
Opened on October 1, 2016! This is a traditional Japanese-style house and is conveniently located. It's about 3 minutes walk from Takayama Station and about 5 minutes walk from "Furui Machinami(Old Street)". When you enter the house from the front door with lattice, you may feel as if you were in a merchant's house in the old days in Japan. Moreover, you can enjoy a horigotatsu; heater table built into the floor and an open-air bath. I hope you can make yourself at home here.
What guests are saying:
"The rooms of the old folk house were very clean and had amenities such as kitchen utensils and towels, so I was able to spend comfortably. Also, it was very convenient for sightseeing because it was within walking distance to Miyagawa morning market and old town. In addition, I would definitely like to use it when sightseeing in Takayama. Thank you very much."
Thank you for 260 reviews! ★Permitted House (This house has a permission as a hotel, you do not need to worry about Japanese regulation) ★Best location (Morning Market"5minutes"/Old town"7minutes"/Train station,Bus terminal"12minutes") ★Transfer service(Train station/Bus terminal to/from the House) ★Drink,Bread service(Coffee/Tea/Various soft drink/Fresh Bread ★Spacious Space(90㎡) ★Free car parking
What guests are saying:
"Short walk to the old cityscape, The location is great as the bar area (1st Avenue) around Takayama Station is also a short walk away. The cleanliness was plentiful and the drink service other than the amenities was appreciated. Recommended for those who want a fashionable trip."
It takes only 3 min from Takayama station and 5 min to the center of Takayama city. Located in a quiet area and it's a convenient place to get around! 高山駅より徒歩3分という好立地にありながら、路地裏にひっそりと佇む隠れ家。古い町並みも徒歩5分で行き来でき、町並み観光にも最適です!
What guests are saying:
"I stayed for two nights with my family of four. Convenient location because it is within walking distance from Takayama station. I went by my car this time, and it was good that the parking lot is near and the directions are very easy to understand. The house was very clean. The kitchen is very large and easy to use, and the digging kotatsu has a heater, so you can feel comfortable even in winter. Children were happy to play with cartoons and origami. Beds and futons have thick mattresses so I could sleep comfortably. I wish I had a pinch to hang clothes and dry socks after washing. I would definitely like to use it again when I go to Takayama. Thank you very much."